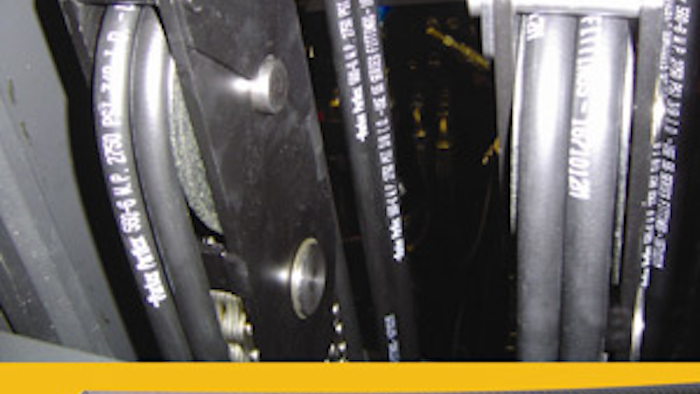 According to Parker Hannifin, its Parflex 53DM Duramax™ thermoplastic hose is built with a high level of contact strength between the layers of core, braid and jacket, while further featuring: 
Projections on the outside of the core that extend up into the braid, so the jacket material is forced down into the braid from the outside.
A specially formulated material used for the jacket with a high level of UV protection for optimal weather resistance and a low coefficient of friction to improve wear.

 

High tensile fibers or high tensile brass-plated steel wire.
The power to weather harsh environments and continuous flexing.

 

A 3,000-PSI constant working pressure.
Over-the-sheave hoses (53DM, 55LT and H6) constructed with copolyester materials, which are rated at -70ºF, maintaining chemical compatibility with hydraulic fluids, making them ideal for use in cold storage or refrigerated areas.
Wire-reinforced options on the 560 (100R1), 590 (100R16) and H6 (100R17) hoses.
Sizes that range from 3/16 up to 1 inch, depending on type of hose.
Availability in a single, twin or multi-line design.

 

Compliance with SAE 100R18, whereas the 55LT hose meets or exceeds SAE 100R7 specifications.