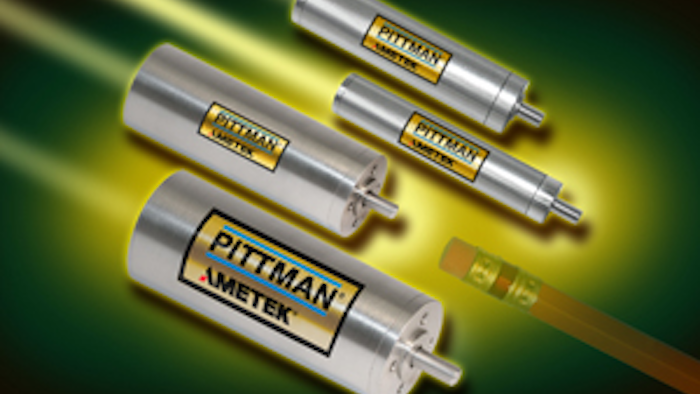 PITTMAN® Motors, a division of AMETEK/Precision Motion Control, offers high-performance slotless brushless direct-current (DC) motors for medical applications, such as high-speed surgical tools, dental tools, medical instruments and other small medical devices.  The company says that the motors additionally:
Are capable of very high speeds, produce little or no EMI (electromagnetic interference), provide long life and have low audible noise.

 

Feature the slotless design, which eliminates magnetic cogging.

 

Feature no stator teeth, resulting in zero detent torque, low inductance and fast response rates.

Measure 0.375 inch (9.53 millimeters) in their smallest version, with a maximum speed of up to 70,000 RPM and a torque rating of up to 0.3 oz-in (0.002Nm); overall length is 2.00 inches (50.8 millimeters).

Are also available in larger diameters, including 0.5 inch (12.7 millimeter), 0.8 inch (20 millimeter) and 1.1 inches (28 millimeters) with maximum speeds up to 60,000 RPM and torque ratings from 0.9 oz-in (0.006Nm) to 14.9 oz-in (0.105Nm).

 

Are constructed using four pole rotors, three phase stators and integral hall sensor feedback spaced for 120 electrical degrees.