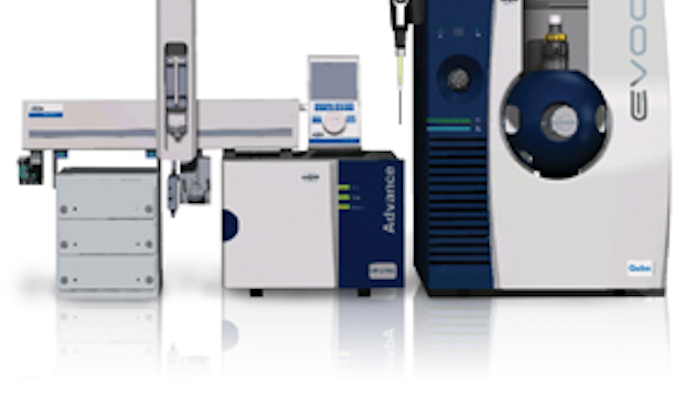 Bruker now offers two new LC-triple quadrupole (LC-TQ) mass spectrometers — the high-performance EVOQ Qube™ and the ultra-high sensitivity EVOQ Elite — which are setting new standards for analytical performance and quantitative robustness. According to the company, the EVOQ series offers:.
They incorporate Bruker's new Advance™ ultra-high pressure liquid chromatography (UHPLC) systems.

The industry's first Vacuum-Insulated Probe (VIP) heated electrospray technology preserves and ionizes thermally fragile molecules with outstanding sensitivity.

The Active Exhaust atmospheric pressure ionization source with a robust orifice vacuum interface significantly enhances quantitative robustness for difficult samples.

 

The novel, 'flat-tuning', proprietary Interlaced Quadrupole Dual Funnel (IQ-DF™) maximizes sensitivity.

Novel PACERTM software enables 'exception based data-review', a revolutionary feature that significantly reduces the error rate for quantitative analysis.

Bruker's patented lens-free triple-quad mass filter design, which enhances MRM performance, is standard on all EVOQ systems, making the EVOQ LC-TQ inherently easier to use and maintain.

The Advance HPLC, UHPLC, and the UHPLC-OLE products offer ultra-low dead-volume which enables excellent reproducibility at analytical flow-rates, an integrated column-oven, and bench-space savings.

 
www.bruker.com/evoq

www.EVOQms.com