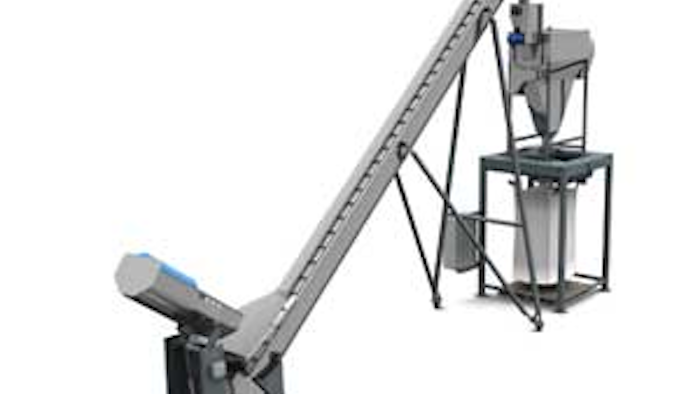 National Bulk Equipment introduces its ProductSaver® packaged product recovery system to safely and efficiently recover packaged product and packaging that may be off-spec, mislabeled, overrun, unsafe, or for other reasons unsellable. According to the company, its ProductSaver® additionally provides:
The automated removal of packaged dry contents from the content's packaging, which enables the controlled recovery of the contents for beneficial residual re-sale, reuse or efficient disposal, or recovery of the packaging material for recycling or disposal.
The integration of package infeed, package opening, and contents and package separation processes into a single-stream product recovery sequence.
Handling of the infeed by 1 operator, whether pallet loads, cases or single packs,
No break-pack or razor-knife steps necessary, improving total process efficiency and protecting personnel from knives and repetitive motion injury.
A cutting head enclosure where high-speed blades, configured to ensure maximum material release without shredding the package, prepare the package for the separation operation. Automated package opening that enables safe, high-volume processing and eliminates dusting, which is common with manual methods.
A screen drum with angled flights on the integrated rotary separator to complete the separation of contents from the packaging.
The removal of residual contents from the packaging via inline aspiration, providing up to 99.95 percent of content recovery.
The reclamation of recovered contents into bulk containers for convenient handling.
The collection and preparation of recovered packaging material for recycling or disposal.
Customization for the particular requirements of each application, regardless of package shape — from single-use ampoules to 150-pound sacks, regardless of package type — from filter packs to dissolvable packets, and fiberboard to flexible packaging, and regardless of contents — from highly regulated powder, sanitary materials and combustible dusts to feed and grain.
The flexibility to be built to meet the FDA, cGMP definition for cleanability, according to 21CFR110.40, with design features that proactively facilitate thorough cleaning, validation, and inspection.
PACK EXPO Booth #E8359