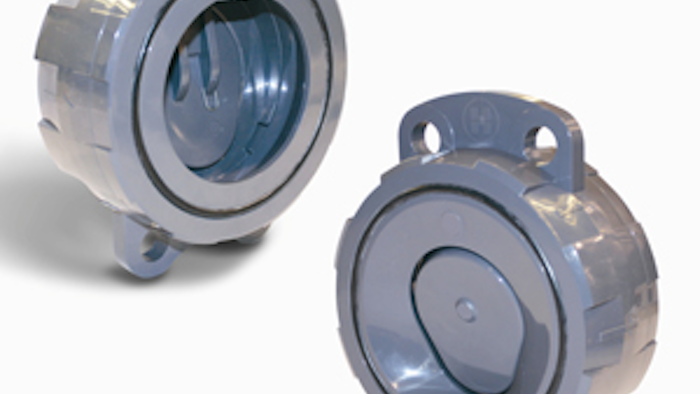 Hayward Flow Control has launched its patent-pending WCV Series full-pattern wafer check valves with a robust all-thermoplastic injection-molded construction, including an angle seat and disc design that allows for high flow capacities (Cv), exceeding other thermoplastic wafer checks, and equal to or better than most metal wafer checks, based on published and independent third-party test data. According to the company, these wafer check valves are further highlighted by:
A maximum pressure rating of 150 PSI non-shock at 70°F.
Construction from PVC and CPVC materials in sizes from 2 to 8 inches.
A contoured inlet port for easy flow.
Elimination of the need for spacers or specialty flanges to achieve higher flow rates in the line, allowing for easy installation.
Low seating pressure.
FPM or EPDM O-rings and face seals.
A 1-piece disc and shaft design.
316 stainless steel or Hastelloy® springs.
An embedded disc O-ring seal.
Integral bolt eyes for ease of installation for 4- to 8-inch sizes.
A lightweight design when compared to metal check valves.
The flexibility to fit both ANSI150 and PN10 flanges.
Availability with or without a disc spring.
No exposed fasteners or retainer clips.
Vertical or horizontal mounting.
Suitability for waste and water treatment, chemical processing, mining and corrosive environments.