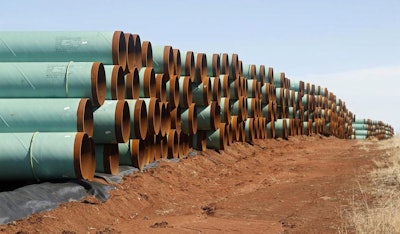 Native American tribes in Montana and South Dakota sued the Trump administration on Monday, claiming that approval of the Keystone XL oil pipeline did not adequately analyze potential damage to cultural sites from spills and during construction.
Attorneys for the Fort Belknap and Rosebud Sioux tribes asked a federal court in Great Falls, Montana, to rescind the line's permit issued by the U.S. State Department.
The tribes argue President Donald Trump ignored the rights of tribes when he reversed a prior decision by President Barack Obama and approved the project last year.
The $8 billion TransCanada Corp. pipeline would carry up to 830,000 barrels (35 million gallons) of crude daily along a 1,184-mile (1,900-kilometer) route from Canada to Nebraska.
It would pass through the ancestral homelands of the Rosebud Sioux in central South Dakota and the Fort Belknap Indian Reservation in northcentral Montana. Fort Belknap is home to the Gros Ventre and Assiniboine Tribes.
"All historical, cultural, and spiritual places and sites of significance in the path of the Pipeline are at risk of destruction," attorneys for the tribe's wrote in the lawsuit.
They also said a spill from the line could damage a South Dakota water supply system that serves more than 51,000 people including on the Rosebud, Pine Ridge and Lower Brule Indian Reservations. A separate TransCanada pipeline suffered a spill last year that released almost 10,000 barrels (407,000 gallons) of oil near Amherst, South Dakota.
State Department representatives did not immediately respond to requests for comment. The agency is involved in the pipeline because it would cross the U.S.-Canadian border.
Calgary-based TransCanada does not comment on litigation and was not named as a party in the case.
In August, U.S. District Judge Brian Morris ordered the State Department to conduct a more thorough review of Keystone XL's path through Nebraska. The move came in response to litigation from environmentalists and after state regulators changed the route.
In yet another lawsuit involving the line, the American Civil Liberties Union and its Montana affiliate sued the U.S. government last week for the release of details related to preparations for anticipated protests against the line.
The groups cited confrontations between law enforcement and protesters, including many Native Americans, which turned violent during construction of the Dakota Access Pipeline through South Dakota.