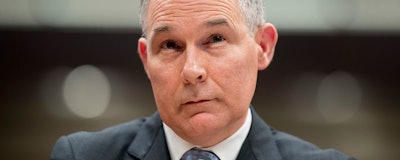 WASHINGTON (AP) — House Democrats are asking the Justice Department to investigate Environmental Protection Agency Administrator Scott Pruitt for any potential criminal conduct.
They allege he repeatedly violated federal anti-corruption laws by seeking to leverage his government position for personal gain.
As evidence, the Democrats cite Pruitt's $50-a-night lease of a Capitol Hill condo tied to a lobbyist, directing an EPA aide to contact a senior Chick-fil-A executive as part of an effort to land his family a franchise, and a $2,000 payment to his wife from organizers of a conference the administrator then attended at taxpayer expense.
The request for an investigation was made in a letter sent Friday to FBI Director Chris Wray and Justice's criminal division chief by five Democratic lawmakers with oversight of Pruitt's agency.
A spokesman for Pruitt did not immediately respond to messages seeking comment.