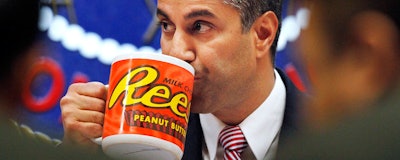 NEW YORK (AP) — Burger King is delivering its own hot take on a regulatory showdown that has enflamed the U.S., using a flame-grilled Whopper.
Burger King's new ad has become a sensation, with more than a million views on YouTube and it's lighting up Twitter .
In the ad, customers whom the restaurant says are real, are told they will be charged different prices for a Whopper, based on speed. Prices range from $5, to $26.
And the customers grow increasingly furious in an art-imitating-life display that mocks new internet rules that have led to wide-scale protests, even death threats.
There's even a jab at Ajit Pai, who heads the federal commission that voted late last year to eliminate net-neutrality protections for the internet (hint: look for the colossal Reese's coffee mug).