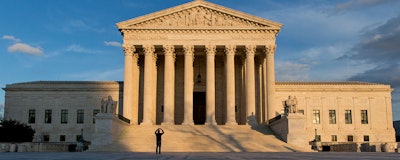 ST. LOUIS (AP) — A St. Louis judge has declared a mistrial in a talcum powder trial after the U.S. Supreme Court placed limits on where injury lawsuits could be filed.
Justices on Monday ruled that state courts cannot hear claims against companies not based in the state where alleged injuries occurred. The case involved suits against Bristol-Myers Squibb over the blood-thinning medication Plavix.
The St. Louis Post-Dispatch reports that St. Louis Circuit Judge Rex Burlison on Monday declared a mistrial in a case in which two out-of-state plaintiffs are part of a suit against Johnson & Johnson, claiming talcum powder caused ovarian cancer.
It's unclear what impact the ruling might have on previous St. Louis verdicts against Johnson & Johnson in which plaintiffs have been awarded more than $300 million combined.