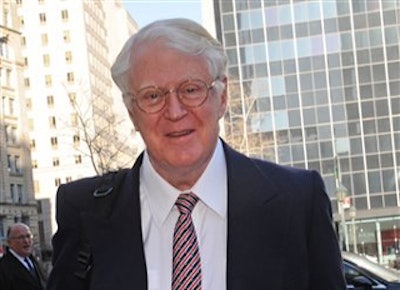 NEW YORK (AP) — A Florida billionaire said he planned to drink a glass of wine to celebrate a federal jury's conclusion Thursday that he was defrauded by a California businessman who sold him two dozen bottles of fake vintage wine at a 2005 auction.
"It's a home run!" a smiling William Koch told a supporter immediately after the jury in U.S. District Court in Manhattan awarded him $380,000 in compensatory damages for the counterfeit bottles of Bordeaux labeled as if they were created from 1864 to 1950. Koch paid $29,500 for the most expensive bottle, a 1921 magnum bottle of Chateau Petrus. The jury returns Friday to decide if punitive damages are warranted.
Koch, a yachtsman who won the America's Cup in 1992, had accused Eric Greenberg of fraudulent misrepresentation, fraudulent concealment, deceptive business practices and false advertising. The jury's six men and two women sided with Koch on each civil charge.
Outside the courthouse, he said he was going to a trendy French restaurant on Manhattan's Upper East Side to celebrate.
"I'm thirsty," he said with a smile. "I want a glass of wine."
A dejected Greenberg only shook his head when asked to comment. One of his lawyers said he did not want to comment until the jury had completed its work.
For Koch, though, the jury verdict was part of a crusade against counterfeit wine sellers that he promised would continue.
"To me, the whole industry is being corrupted," he said, recounting how his investigators had helped put one wine seller in jail and forced a judgment against another. "I absolutely can't stand being cheated."
"Now we have this faker," he said, referring to Greenberg. "We're moving down our hit list of fakers. This is just a start."
Koch, 72, testified during the trial that he has mostly stopped buying wines at auction because he has been cheated so many times and no longer trusted the market.
Greenberg — a former billionaire who built two Internet consulting companies before the 2000 collapse of those stocks reportedly reduced his net worth by as much as 90 percent — had insisted on the witness stand that he never intentionally sold a bad bottle of wine.
"I wouldn't sell a fake wine," he said as one of the trial's first witnesses. "I've never intentionally sold fake wine in my life."
Millions were spent by both sides on lawyers in the case.
Koch, the founder and president of the Oxbow Group, based in West Palm Beach, Fla., spent $3.7 million at the 2005 auction, buying 2,600 bottles of wine. He paid someone more than $75,000 daily for two days to make his bids, though he decided before the sale not to inspect the wines he eventually bought.
Koch, a Palm Beach resident and the brother of industrialists and conservative political supporters David and Charles Koch, conceded on the witness stand that the wine he bought from Greenberg was not his first encounter with fakes. In 1988, he said, he paid $400,000 for four bottles of French wine he falsely believed had been owned by Thomas Jefferson.