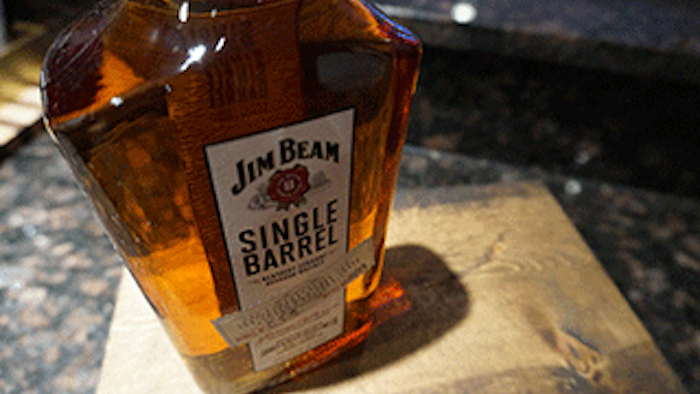 CLERMONT, Ky. (PRNewswire) — What's a birthday party without a few friends?
In recognition of legendary bourbon distiller Jim Beam's 150 birthday, Jim Beam® Bourbon is inviting anyone named Jim Beam (who is of legal drinking age) to join a once-in-a-lifetime birthday party at the world's No. 1 bourbon's historic distillery in Clermont, Kentucky.
"If your name is Jim Beam, then you better get down here," said Fred Noe, Jim Beam's great-grandson and 7th Generation Master Distiller. "We want to meet you and we want to treat you to a special day in honor of a special man."
Fittingly held during National Bourbon Heritage Month and the annual Kentucky Bourbon Festival, this milestone birthday celebration will take place at the Jim Beam American Stillhouse on September 18, 2014 at 11a.m. EDT. Anyone named James "Jim" Beam who makes the journey to the Jim Beam American Stillhouse in Clermont will be honored guests and play a special role in the day-long festivities.
According to Noe, the "Jim Beams" will be treated to a VIP distillery tour, including a private BBQ lunch and the honor of helping to unveil a life-size bronze statue of Jim Beam created to commemorate his birthday.
"They're going to get VIP treatment," said Noe. "Because if they have the same name as my great-granddad, they deserve it."
Born in Bardstown, Kentucky in 1864, Beam was the fourth generation family distiller. His great-grandfather, Jacob Beam, founded the family business in the foothills of Kentucky in 1795. After learning the business from his father, David M., Jim Beam established Jim Beam Bourbon as a national brand after Prohibition. Jim Beam Bourbon is now the world's number-one selling bourbon whiskey.
Bourbon enthusiasts unable to make it to Kentucky need not worry. They can still raise a glass and share the Beam family legacy on Facebook at www.facebook.com/jimbeam or @JimBeam on Twitter.
Fans must be 21 years old or older to participate. For more information or to RSVP to the event, bourbon enthusiasts named James "Jim" Beam should email BeamBirthday@jsha.com by Monday, September 15, 2014. Space is limited and restricted to a first-come basis. Guests not bearing the namesake are also invited to join in the birthday celebration with complimentary cake and ice cream served all day at the Jim Beam American Stillhouse from 11 a.m. to 5 p.m. EDT.
About Beam Suntory Inc.
As the world's third largest premium spirits company, Beam Suntory is Crafting the Spirits that Stir the World. Consumers from all corners of the globe call for the company's brands, including the flagship Jim Beam bourbon and Yamazaki Japanese whisky, as well as world renowned premium brands including Maker's Mark and Knob Creek bourbons, Hakushu and Hibiki Japanese whiskies, Teacher's, Laphroaig, and Bowmore Scotch whiskies, Canadian Club whisky, Courvoisier cognac, Sauza tequila, Pinnacle vodka, and Midori liqueur. The company generates annual worldwide sales of approximately $4.6 billion excluding excise taxes.
Beam Suntory was created in 2014 by combining the world leader in bourbon and the pioneer in Japanese whisky to form a new company with a deep heritage, passion for quality, innovative spirit and entrepreneurial culture. Headquartered in Deerfield, Illinois, Beam Suntory is a subsidiary of Suntory Holdings Limited of Japan. For more information on Beam Suntory, its brands, and its commitment to social responsibility, please visit www.beamsuntory.com and www.drinksmart.com.