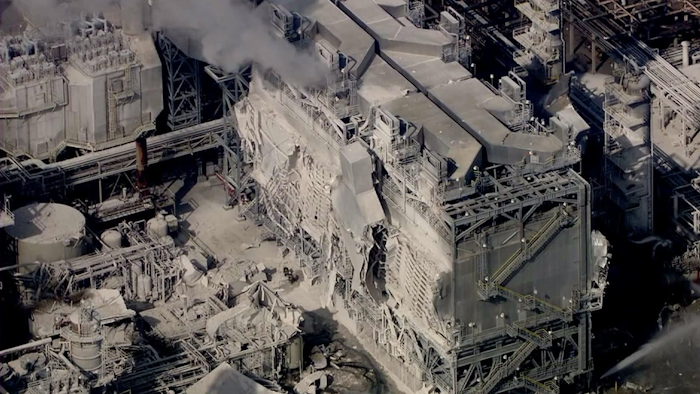 REDONDO BEACH, Calif. (AP) — An explosion at an ExxonMobil oil refinery in California last year could have been prevented if managers had taken into account aging safety equipment and shut down a key, spark-generating part of the refinery before attempting repairs elsewhere, federal investigators said.
The unit being repaired had operated for five years without a maintenance overhaul and, as a result, a key valve failed and leaked volatile hydrocarbons into an electrostatic chamber where the material combusted, the U.S.Chemical Safety and Hazard Investigation Board said.
The fireball injured four contractors, destroyed a large part of the refinery and sent a fine white ash raining down on nearby homes and cars.
The explosion could have been much worse, Chairwoman Vanessa Allen Sutherland said Wednesday.
The blast also shook nearby homes and tossed an 80,000-pound (3,600 kilogram) piece of equipment close to another unit where tens of thousands of pounds of a highly volatile and toxic substance called modified hydrofluoric acid, or HF, are stored in tanks.
The blast knocked over a column that contained a laser sensor dedicated to detecting a leak of the acid, investigators said.
"What we definitely believe is that this was a serious near-miss incident," Sutherland said. "That amount of HF — or even a portion of the HF — had the potential to vaporize and cause some injury."
The lack of layered safety precautions mirrors the cause of a 2012 fire at a Chevron refinery in Richmond, California, that sent more than 15,000 residents to the hospital and endangered 19 workers, the agency said.
Exxon has stringent safety rules and disputes the findings in the 2015 blast, said Todd Spitler, an Exxon spokesman. An internal review of the incident found no protocols were violated, he said.
ExxonMobil sold the refinery to New Jersey-based PBF Energy Inc. in September. Continued repairs have delayed the closing of the deal.
California workplace regulators issued $566,000 in fines last summer for health and safety violations related to the blast. The plant is located in a densely populated area of the city of Torrance, about 20 miles (30 kilometers) southwest of Los Angeles.