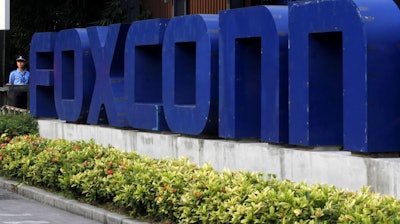 North Carolina promised tax breaks and other incentives worth more than $570 million to attract a Foxconn electronics plant that could employ 8,800 people, but the state lost out to Wisconsin's five-times-larger offer, documents released Monday show.
Pennsylvania, Ohio and Michigan were also in the running for the Foxconn Technology Group's plant, according to a June 12 memo included among state documents released to The Associated Press after a public records request.
The Taiwan-based manufacturer announced in late July it settled on a southern Wisconsin site for a $10 billion flat-screen factory that could employ 13,000 people. Wisconsin politicians last week completed their work on a $3 billion incentive package.
Foxconn officials visited North Carolina twice in May to scout prospects for a plant where 95 percent of the jobs would be on the production line and the overall average salary would exceed $50,000, records show. The factory producing materials used in large televisions, interactive whiteboards and other displays was expected to open in early 2020.
The company's list of requested public subsidies isn't clear. They appeared to be outlined in an almost entirely redacted 23-page letter from Foxconn's site selection consultants. But avoiding taxes would be a key element in the company's jobs decision, the May 15 letter indicated.
Foxconn wanted state and local authorities to "provide offsets to all taxes levied at the state and local level," the letter said.
On June 2, North Carolina submitted its official offer, with an incentives estimate totaling nearly $570 million. The total doesn't include pending sweeteners, including additional local tax breaks, taxpayer-paid site preparation and extra money from an economic development foundation using the state's settlement payments from cigarette companies, the state Commerce Department memo said.
The previous day, Commerce Secretary Anthony Copeland wrote Foxconn officials suggesting that if North Carolina were selected as a finalist, state legislators might be coaxed into raising the current limit on a program that provides tax breaks as companies meet job-creating and investment targets over time.
Legislators have sought to encourage job creation without giving away the store and "addressing the many critical, high-priority needs of the state," Copeland wrote. But "the job creation proposed for these projects is so large that we may need to explore the feasibility or raising or eliminating the cap for a project of this magnitude."
The Foxconn records were released a month beyond the deadline required by state law. The Commerce Department initially refused, citing Foxconn statements that the Wisconsin factory could be the first of several U.S. locations.
Foxconn in 2013 promised to hire 500 workers and invest $30 million in Pennsylvania, but that plant was never built. The company also has pledged to build factories in Indonesia and India that haven't materialized.