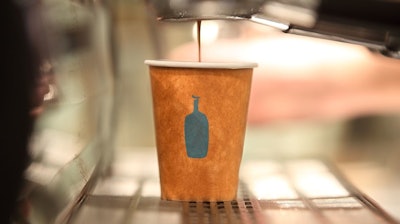 Nestlé this week acquired a majority stake in Blue Bottle Coffee as the world's largest food company narrows its focus on high-growth segments.

Blue Bottle, based in Oakland, Calif., is a specialty coffee roaster with retail locations in the U.S. and Japan. The number of outlets is expected to climb from 29 at the end of last year to 55 by the end of 2017, and the company also launched a line of ground and roast products sold online and at retailers.

Terms of the agreement were not disclosed. Blue Bottle's current management and employees will retain a minority stake, and CEO Bryan Meehan and founder James Freeman will continue to run the business as a stand-alone entity.
Although Nestlé is the world's largest coffee producer, officials said the deal marks the company's entry into the "super premium coffee shop segment" and bolsters its position in both the U.S. and international coffee markets.

Nestlé recently singled out coffee as one of its priorities as it reviews its sprawling business under pressure from investors.

"Blue Bottle Coffee's passion for quality coffee and mission-based outlook make for a highly successful brand," Nestlé CEO Mark Schneider said in a statement. "Their path to scale is clearly defined and benefits from increasing consumer appreciation for delicious and sustainable coffee."

Blue Bottle, meanwhile, would gain access to Nestlé's massive coffee infrastructure and global market reach.

"I'm excited to work with Nestlé to take a long-term approach to becoming a global leader in specialty coffee," Meehan added. "We felt a real kinship with the team and knew it was the right move for us."