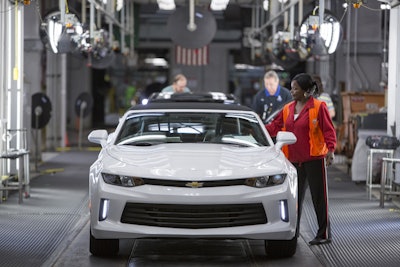 General Motors plans to cut the third shift and lay off 1,100 workers at a plant in Lansing, Mich.

The Lansing State Journal reported that the automaker announced a 60-day layoff notice to workers Monday morning.

The Lansing Delta Township plant, one of two vehicle assembly plants near Michigan's capital city, currently employs about 3,450 salaried and hourly employees. The factory makes the Chevrolet Traverse, Buick Enclave and GMC Acadia SUVs.

Production of the next-generation Acadia, however, began in Spring Hill, Tenn., and the third shift in Lansing will end as production of the earlier model is phased out.
The next models of the remaining two SUV models, meanwhile, will continue to be manufactured at Lansing Delta Township.

Union leaders were reportedly optimistic that the change would be short-lived since SUVs, which provide higher profit margins for automakers, are recording strong sales in the U.S.

The State Journal reported that analysts speculate that a new Cadillac crossover could replace the Acadia.

"I know (GM) wants to utilize the plant at full capacity," Bill Reed, president of the United Auto Workers chapter that represents the plant's hourly workers, told the paper.