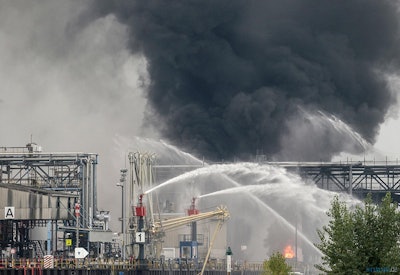 A major explosion rocked a facility for the world's largest chemical company on Monday.
The accident happened a BASF unit in Ludwigshafen, Germany — the home of the company's headquarters.
According to Associated Press, the explosion happened near a river harbor that is used to unload flammable liquids and flammable gas.
So far, the company says it believes two employees have died from the accident. Reuters reports that six others were severely injured and two people are still missing.
Video from the scene showed a massive fire at the site and giant plumes of smoke. In response to the blast, the company shut down 14 facilities at the site.
"Our deepest sympathy lies with the affected people and their families," Uwe Liebelt, BASF site manager Ludwigshafen, said in a statement.
It is not yet known what caused the blast but local authorities have ruled out terrorism.
BASF has advised residents near the scene to remain indoors with windows closed.