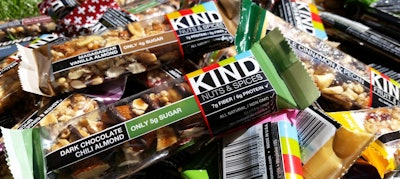 Federal regulators could overhaul foods that can be labeled "healthy" amid an increasingly health-conscious consumer marketplace.

The Associated Press reports that the U.S. Food and Drug Administration plans to re-examine its definition of "healthy" in the wake of a spat with snack bar company Kind.

The current FDA definition generally evaluates fat, cholesterol and sodium, and the FDA last year warned Kind over its use of the term despite its saturated fat content.

Kind fired back that those fats came from the nuts in its snack bars and asked the agency to reconsider. The company added that under the FDA's current standard, sugary puddings and cereals can be labeled as healthy while salmon and avocados cannot.

The FDA responded that it would allow Kind's continued use of "healthy and tasty" as a "corporate philosophy," and spokeswoman Lauren Kotwicki told the AP that the agency would seek public comments on whether the nutrient content thresholds for healthy foods should be changed.

Although the process of changing the definition is set to begin soon, it likely won't be completed for years. The AP noted that the FDA took six years to finalize a rule on labeling of gluten-free foods.