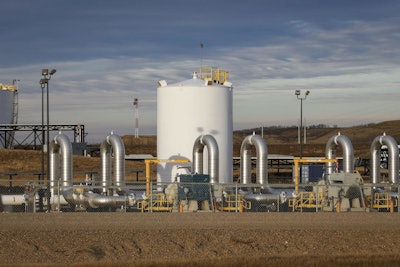 The portion of the Keystone pipeline shut down last week following the discovery of an oil leak has now resumed operation.
Last week, TransCanada shut down the portion of the pipeline between Canada and Oklahoma after a landowner noticed a "small patch" of oil on the ground near the company's pump station in Freeman, South Dakota.
Although the leak was initially thought to be 187 gallons, TransCanada's investigation — which involved a crew of 100 excavating 275 feet of pipe — found that the total amount of leaked oil was closer to 16,800 gallons, or 400 barrels. On Friday, crews located the source of the leak and repairs were immediately underway.        
After receiving authorization by the Pipeline and Hazardous Materials Safety Administration, TransCanada underwent a "safe and controlled" restart of Keystone operations on Sunday. Visual and aerial inspections accompanied the restart.
The PHMSA's return-to-service plan, however, dictated that the pipeline must be started at a reduced pressure. If the repair proves successful, TransCanada will soon return the pipeline to full service.
This marks the first breech of its kind in the pipeline since the 36-inch-diameter pipeline opened in 2010, reports the Associated Press, and the cause still has not been determined.
In an emailed press release, TransCanada spokesperson Mark Cooper said that, though no "significant environmental impact" has been observed, "clean up and land restoration has already started and will continue over the coming days."
Did TransCanada take all of the appropriate steps in reaction to this spill? Do you think it's too soon to reopen the pipeline? Comment below or tweet @KatieeMohr.