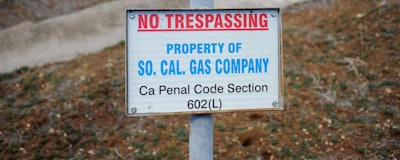 A bill to extend a moratorium on operations at the natural gas storage facility that had a massive leak for almost four months was approved Monday by a legislative committee, though members were concerned it could lead to power outages.
The bill would require Southern California Gas Co. to test all wells at its Aliso Canyon facility near Los Angeles before it can resume storing gas that is used in winter to heat homes and businesses and is important during long, hot summers to fuel gas-fired electric plants.
Mike Gatto, chairman of the Assembly Utilities and Commerce Committee, said the "elephant in the room" was the impact on energy supplies if the facility remained largely shut down.
"We want a concrete answer," Gatto, D-Glendale, said to experts. "Will there be brownouts? It's a yes or no question."
Experts couldn't do much better than offer a maybe.
The committee passed the bill 13-0 after Sen. Fran Pavley, D-Agoura Hills, said she would amend it to allow individual wells at Aliso Canyon to return to use after passing rigorous testing.
In its current form — and under rules put in place by state regulators last week — all 114 wells remaining at the SoCalGas facility must pass tests to show they are safe before any gas can be injected deep underground for storage.
About 20 people spoke in support of the bill, including environmental groups and residents of the Los Angeles neighborhoods who were sickened by the stench and fumes that spewed uncontrollably for 16 weeks from a blown-out well. The well was permanently sealed last week, but the invisible disaster uprooted 6,400 families from the San Fernando Valley.
Two representatives from SoCalGas said the company was neutral and did not oppose the bill, but wanted clarity on what steps the legislation would be required to make the facility safe.
Trade groups representing manufacturers and food processors opposed the bill out of concern that a gas shortage could lead to power disruptions.
Testing of all the wells will takes months, not weeks, said Jason Marshall, chief deputy director of the state Department of Conservation, which oversees gas and oil regulators.
Although some gas still in the field could be used during a demand spike, state agencies and power managers are looking into how to manage a longer-term shortage of supply and studying the impact if the facility is shut down.
Assemblyman Bill Quirk, D-Hayward, said he would need a better idea of the impact before voting if the bill makes it to the full Assembly.
"If the risk is a couple of days here or there for a small number of industries, fine," Quirk said. "If it's the LA basin could get a blackout, it's not fine."
Mark Rothleder, of the California Independent System Operator that manages the power grid, said he would know more in the middle of next month what the risks are of power outages.