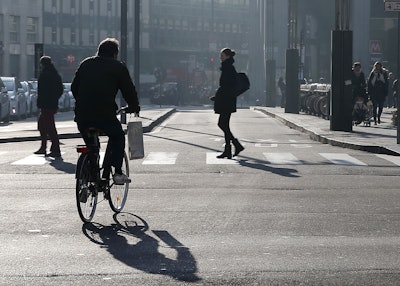 Bicyclists had free rein of Milan's streets Monday during a six-hour ban on private cars in a bid to alleviate persistent smog.
Pollution levels in Italy's business capital have exceeded levels considered healthy for more than 30 days straight, prompting officials to ban private cars from 10 a.m. until 4 p.m. Monday through Wednesday this week.
Officials said private motorists, who risked steep fines, widely respected the ban on its first day.
Rome, which is also battling smog, has been enforcing alternate day driving based on odd and even numbers on license plates, while Florence has announced limits on automobile access to the historic center through New Year's Eve.
The measures have been criticized as insufficient, with some calling for more incentives to use public transport, shutting off school heating systems during the winter break and urging citizens to turn down the heat at home. Milan's Mayor Giuliano Pisapia said it was a necessary response to an emergency situation.
"The ban underway has been, I would say, well respected," Milan's top transport official, Pierfrancesco Maran, said in a Facebook post. "In the meantime, it has to be said that the city has a magical atmosphere experienced on foot, bicycle and with public transport."
The lack of rain and winds has exacerbated pollution levels in Italy, particularly in the mostly land-locked and industrial northern Po River Valley where at least 10 cities have limited auto traffic in some way. Milan's car ban falls during a holiday week, with many residents out of town and many businesses closed, and is accompanied by a measure that allows passengers to use public transport all day for 1.50 euros ($1.6) on what is normally a single-ride ticket.
Health officials say vehicle emissions account for half of the pollution in Milan and 70 percent in Rome, and that the high pollution levels have increased reports of acute cardiovascular disease in recent days.