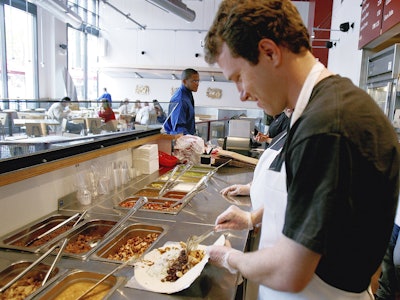 Earlier this month, a Chipotle restaurant near Boston College closed after 136 patrons were sickened by norovirus.
City health inspectors, who closed down the restaurant Dec. 7, gave the restaurant permission to reopen Saturday after issuing the location a clean bill of health.
William Christopher Jr, the city's Inspectional Services Department commissioner, told the Boston Herald that he plans to have lunch at the recently reopened location to show the public that there's nothing to be afraid of. "The Chipotle is probably the best place to eat right now, because it's the cleanest place in Boston," Christopher said.  
The norovirus outbreak came on the heels of an E. coli outbreak that began in October linked to Chipotle locations in nine states that led the company to alter its safety measures and centralize food preparation to reduce risk.  
Chipotle-linked E. coli cases should continue to dwindle, but the source might never be determined. Since the ingredients in question are no longer around, "It is doubtful that testing will ever be able to determine for sure what the cause of this was," company spokesman Chris Arnold told Reuters.