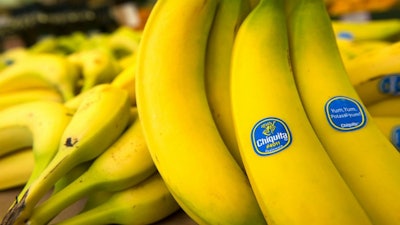 Chiquita Brands has received an approximately $611 million buyout offer from investment firm Safra Group and agribusiness and juice company Cutrale Group.
Safra and Cutrale are offering $13 per share, a 29 percent premium to Chiquita Brands International Inc.'s closing price of $10.06 on Friday.
The unsolicited bid comes as Chiquita and Fyffes of Ireland were working on their own transaction. The two companies agreed in March to merge in a stock-for-stock deal to create the world's biggest banana supplier.
Safra and Cutrale said that they would like to hear back from Chiquita on their offer by noon on Friday.
Representatives from Chiquita and Fyffes did not immediately respond to emails seeking comment.
Shares of Chiquita surged $3.11, or 30.9 percent, to $13.17 in Monday afternoon trading.