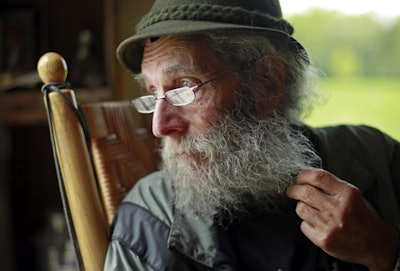 The man whose iconic face graces all Burt's Bees products passed away at the age of 80 on Sunday from respiratory failure — but not before leaving a lasting legacy on a giant industry.
It all started in rural Maine where Burt — born Ingram Berg Shavitz — forged a business and romantic partnership with Roxanne Quimby and began making candles using beeswax. Previously, Shavitz had been a free-spirited photographer for the likes of Time and Life magazines living in New York City. But after returning to the countryside, he became a beekeeper and was known for selling honey out of a truck on the side of the road.
After meeting Quimby, the pair started making and selling candles using honey. They sold like hotcakes, the pair expanded their offerings and Burt's Bees became an official company in 1991.
With Shavtiz as the face of the company's logo, Burt's Bees' product line grew to include "all natural" hair products, face cleansers, soaps, lotions and much more.
Walgreens was never the same again.
Part of what Burt's Bees has accomplished is that the company brought "all natural" body care products made without synthetic materials into the big leagues. Throughout the 90s, the company pulled in millions in revenue — by 2000 it was making $23 million a year.
Behind the scenes, the picture wasn't as rosy. Following significant strife in Shavitz and Quimby's relationship — Shavtiz admitted to having an affair with a college-aged woman — Quimby edged Shavitz out of the company and bought out his stake for $130,000.
Meanwhile, Clorox — a multi-billion dollar company that sells cleaning, personal care and other products — sensed both Burt's Bees success and the rising demand for natural products and wanted a piece of the action. In 2007, Quimby struck a deal with Clorox and Burt's Bees was sold for a cool $925 million. (Quimby eventually gave Shavitz $4 million from the deal.)
Environmentalists were less than enthusiastic about the deal, calling Burt's Bees a sellout. But the move was part of a larger trend of big-name corporations taking over environmentally minded companies to boost their all-natural street cred, including Kraft's acquisition of Boca Burgers and Coca-Cola buying Honest Tea.
And rather than lose its hippie roots, the acquisition helped Clorox develop more sustainable methods, and has helped the product line become even more natural.
According a report in The Guardian, after the Clorox deal, Burt's Bees products went from being 97 percent natural to 99 percent natural.
Burt's Bees has also been able to tap into Clorox's significant R&D resources to innovate and improve its products. And after the acquisition, Clorox began making substantial progress with its sustainability efforts through the supply chain. One change the company made was asking its top 100 suppliers to measure and reduce their environmental impacts.
Clorox also adopted a pivotal company practice from Burt's Bees at its various manufacturing plants called the Dumpster Dive. To help employees improve waste management, they overturn dumpsters outside the plant and sift through the smelly trash to look for materials that can be recycled or re-purposed. After implementing the practice at every plant, Clorox saw a reduction in at least 50 percent of its waste sent to landfills.
On the whole, the new measures resulted in sustainability improvements in 35 percent of its products and $15 million in annual savings, according to a 2013 report.
Clorox boasts that the ultimate goal of Burt's Bees is to be the "greenest personal care company on earth" and it continues to implement changes to achieve that, including using packaging made from recycled plastic.
Burt's Bees continues to live up to all the buzz about its beeswax-centered products and is now a household name throughout the country.
Want to learn more about the unlikely success story of Burt's Bees? Check out this trailer for the documentary film made about the company and the eccentric man behind the label.