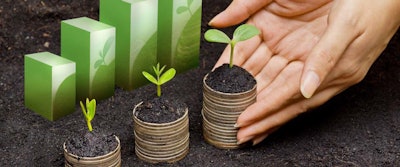 Like it or not, the chemical industry is one of the most highly criticized and attention-grabbing industries when it comes to sustainability performance. But leaders are setting out to change this. According a 2014 McKinsey & Company survey of chemical companies, 43 percent of companies now seek to align sustainability with their overall goals, missions and values — up from 30 percent in 2012. By putting sustainability at the heart of their business strategy, leaders are impacting industry performance, mitigating risks and gaining important advantages over competitors.
Sustainability leaders in the chemical industry are able to reduce risks and gain an upper hand by incorporating sustainability into key organizational processes, such as product innovation, allowing them to achieve corporate goals. A shining example is the success of Akzo Nobel's line of eco-products, which is expected to account for 20 percent of the company's revenue by 2020.
Other industry leaders, like DuPont, realized a number of years ago that decreasing environmental impacts actually creates value because it ensures the supply of future materials. That's why the company created its own industry-wide program, "Together for Sustainability" to improve the sustainability of wide-reaching supply chains in the chemical industry. By setting aggressive internal and external goals for itself and the industry, DuPont has secured its spot as a sustainability leader and value-creator for investors and consumers.
Finally, one of the most important roles that sustainability metrics play in the chemical industry is that they help avoid risk and manage reputation. According to McKinsey & Company, reputation management has the highest value creation potential for the chemical industry in the next five years. Once companies adopt sustainability as a central aspect of their business goals and vision, they are more likely to gain a stronger leadership buy-in and secure their place as an industry leader.
Maya Yarowsky is pursuing her Masters in Environmental Studies at Tel Aviv University and is a Marketing & Business Development Intern at ecoOS. ​