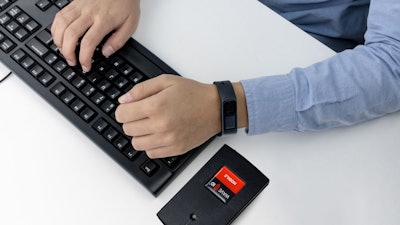 Nymi
In many industries — manufacturing, healthcare, pharmaceuticals, biotech and more — employees are challenged by the need to access multiple secure systems and companies must provide a complete audit trail. With new protocols to avoid the spread of germs, staff are also required to wear sometimes bulky personal protective equipment, making the traditional authentication process even more time-consuming and burdensome.
Here, we chat with Andrew Foxcroft, who is vice president of workplace wearables technology company Nymi, and Gourgen Oganessyan, product marketing manager at contactless authentication solutions provider rf IDEAS, for their thoughts on current technology investments that the industrial sector has made amid the COVID-19 pandemic and what the role of those technologies will be going forward.
Manufacturing.net: What role do you think technology will play in the future of compliance in industrial environments, especially with PPE requirements?
Andrew Foxcroft: Technology is essential to compliance requirements in the workplace, whether that is required due to track and trace requirements, process compliance or health and safety assurance. These requirements will continue to grow and it will not be possible to keep pace in a dynamic increasingly competitive world without technology's assistance. Throughout the pandemic, production in the industrial space has continued and as we look forward, companies must ensure they are fully supporting their staff to be productive, efficient and safe while continuing to meet all legislative requirements and maintaining security.
New and innovative connected worker solutions are enabling industrial factories to be compliant while maintaining worker productivity and safety - the notion of Touch Less, Worry Less, Do More will become an increasingly demanded approach for the benefit of workers and the enterprise alike. For workplace safety, in addition to emerging COVID-19 regulations, protecting lone workers, managing dangerous machinery, immediate workforce notification all come into play in addition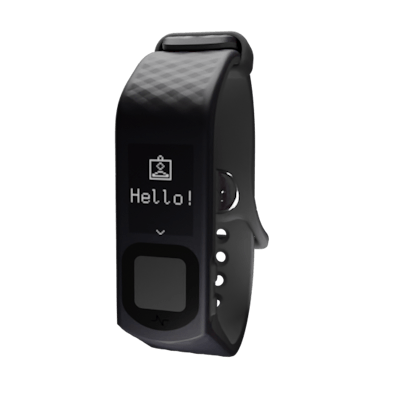 to general workplace compliances. For example, workplace wearables can provide employees with touchless, secure authentication that works under personal protective equipment (PPE) so staff can enter restricted areas without removing their protective gear. Additionally, these connected worker solutions can even provide organizations with social distancing enforcement and contact tracing capabilities to fully protect the workplace.
Heightened workplace regulations should not be a burden on employees and a hands-free connected worker solution ensures that, rather than employees worrying about who they've come in contact with or having to remember login credentials for various systems, they just have to focus on their job.
Manufacturing.net: A lot of companies are investing in solutions that support current COVID safety needs, such as contact tracing & social distancing. Are these smart investments? Will these types of solutions be valuable a year from now?
Andrew Foxcroft: The future of the workplace is unclear, and although contact tracing and social distancing capabilities are essential right now, whether the restrictions and policies will be implemented long term is uncertain. What we have learned is we need the ability to be able to react to such instances in the future - hindsight being 20:20 any forward-thinking organization needs to consider solutions able to deal with today's issues and future possible scenarios that may emerge - the laggards will eventually be forced to do so by legislation. In short, solutions are not a sustainable way forward. Those companies with the business strategy to take a strategic, platform and adaptable approach will see significant commercial upside.  That's why my best piece of advice for industrial enterprises looking for tech solutions to protect their workforce is to integrate a solution with multiple benefits. A connected worker platform enables factories to activate contact tracing and social distancing while they need it, but also provides them with advanced abilities like contactless authentication, zero-trust security and physical danger alerts if machinery comes into close proximity with a worker.
With a connected worker platform, companies are not just investing in current needs, but businesses needs in the future. Rather than deploying an individual contact tracing application, they should look for a solution with a plethora of capabilities, thereby ensuring the technology can continuously evolve with market demands. 
Manufacturing.net: Why should manufacturers invest in contactless authentication? Can you provide current and future use cases?
Gourgen Oganessyan: There are two major trends that will define the business environment in 2021 and beyond, in my opinion. The first is the ever-increasing focus on protection of sensitive information, and the fact that the inadequacy of traditional usernames and passwords has become abundantly clear. Weak passwords are a top cause of enterprise data breaches. According to Verizon Data Breach Investigations Report, 80% of hacking-related breaches involve compromised and weak credentials. It is therefore clear that companies need to take a serious look at moving away from passwords and adopting passwordless (and multi-factor) authentication methods.
The second trend is the emphasis on workplace health safety, only likely to grow in importance as we head back to the office later this year in the wake of the COVID-19 pandemic. Offices, healthcare organizations and manufacturing facilities often have a large number of shared devices, such as workstations, printers or HMI's. Enabling employees to authenticate with an RFID, Bluetooth or touchless biometric credential instead of typing usernames and passwords on keyboards and pin pads is a great approach to maximize health safety while enhancing data security. A new and fast-growing technology called FIDO2 (Fast Identity Online) offers a new level of passwordless security and convenience, allowing a single-tap login to systems and multiple web-based resources using USB, NFC or Bluetooth hardware keys.
There are many contactless authentication use cases across various industries, and the number only continues to grow. Hospitals, especially in the US, have long adopted RFID badge-based tap-and-go authentication for clinicians as an unwritten industry standard. This ensures protection of patents' health information from unauthorized access in compliance with HIPAA, while also saving invaluable time that can be spent on patient care instead of on typing usernames and passwords multiple times a day. There is no reason this model cannot be applied outside healthcare in other enterprises where data privacy and employee efficiency are critical. Many SSO (Single Sign-On) software solutions exist that feature tap-and-go authentication and are fully integrated with WAVE ID proximity, contactless and mobile credential readers from rf IDEAS. Another important use case is secure print. Instead of sending a potentially sensitive print job to a specific printer in the building (this is invariably followed by a "mad dash" to the printer to pick up the job before it is either seen by an unauthorized person or is misplaced), the job is sent to a secure print server. User can then walk up to any printer in the building equipped with a WAVE ID card reader, authenticate with a badge and receive his or her job from the queue. Other use cases abound: HMI login to ensure only personnel trained and authorized to operate the equipment is given access; attendance management (with the added benefit of contact tracing important in the pandemic environment); industrial vending and dispensing, and many others. 
Manufacturing.net: Can you provide background on Nymi and the partnership with rf IDEAS? What should industrial companies know about these integrated technologies?
Gourgen Oganessyan: rf IDEAS and Nymi have partnered to take touchless authentication to the next level. Nymi Band 3.0 is a groundbreaking authentication solution. It combines a possession factor and a biometric factor in a convenient and attractive wearable design. The solution has been very successful in environments requiring strong authentication where it is not feasible to have users type in their login credentials or use biometric authentication of an external capturing device (think clean-room manufacturing environments, for example, were employees are required to wear gloves, goggles, masks  and other protective attire). The solution is now ready to be taken to every enterprise requiring strong user authentication. WAVE ID readers from rf IDEAS are now fully integrated with the Nymi solution, allowing tap-and-go authentication via the Nymi band's NFC channel, as well as enrollment in the Nymi Band Application with the help of the special Bluetooth Low Energy module embedded in the reader.