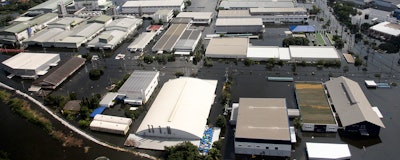 Where would we be without technology? It plays a key role in today's business world, but with everything from viruses and bot attacks to hackers and scammers poised to bring computer systems to their knees, it's essential to protect the technological infrastructure of your company in any way possible. This might mean researching managed dedicated servers that offer protection against malicious activities, or it might mean updating your disaster recovery plan!
An out-of-date recovery plan would make it extremely difficult to respond to unplanned incidents effectively which could put your organisation at risk — so here's how to put together and implement a recovery strategy, or get your existing one up to scratch.
No. 1: Identify Threats to Your IT Infrastructure
In order to create an effective disaster recovery plan, you need to first identify the most serious threats to your IT infrastructure such as human error, loss of power, system failure, fire damage and so on. You should also analyse all critical systems — which, by definition, is any system whose failure could threaten human life or the organisation as a whole — and look for vulnerabilities and weaknesses within the structure such as existing viruses, system disturbances, a lack of back-up power and out-of-date database copies.
No. 2: Formulate Disaster Recovery Strategies
When you know the holes within your infrastructure, you can then look at each critical system individually and start to form a disaster recovery strategy which includes prevention, response and recovery. If you work in the manufacturing industry, for instance, and experience a sudden loss of manufacturing systems you may decide to include failure alerts and regular inspections as part of your prevention strategy. Your response may be to run manufacturing equipment via an alternative system whereas your recovery strategy will probably include fixing the primary manufacturing system before returning to normal operations.
Similarly, when it comes to safety, you may decide to install protective enclosures around sensor units to prevent security systems from being destroyed. If damage still occurs, your response strategy might be to deploy guards at strategic points whereas your recovery should be to obtain/install replacement units and sensors. Once you've worked through each area of weakness and considered all possible scenarios, it's a good idea to collate this information into an easily-accessible table so that everyone knows how to response in the event of an emergency.
No. 3: Keep Emergency Contact Details Nearby
If your IT system is showing signs of a malware attack, then speed is everything. While your web host will probably have identified any threat before you do, it's essential to have their contact information to hand so you can get hold of them quickly. The last thing you want to be doing is rummaging through paperwork when time is of the essence, so always keep important information to hand — preferably at the front of your official disaster recovery plan.
While writing a disaster recovery plan takes time and effort, it is well worth doing and could potentially save your business — so don't cut corners.