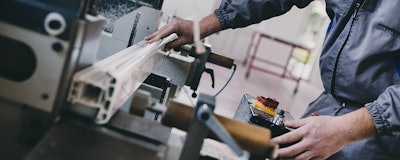 Industrial machinery has a long lifespan. In many facilities, equipment will be in operation for 15 to 30 years, as it is designed to be robust and long-lasting. Legacy equipment can function effectively for decades, but its capabilities will fall behind newer counterparts.
Older machines or components may be less efficient, have less computing power and less memory to store and record data. They could also offer limited connectivity and may even operate with a different language protocol. These differences can make it difficult to make outdated equipment compatible with new industrial computers or programmable logic controllers (PLCs).
Limited connectivity, communication and data storage creates a barrier to Industry 4.0. For a factory to be truly smart, machines must be able to communicate and make real-time decisions. This requires networking between individual components, machines, factories and even enterprises to collect, communicate, analyze and compare data. This information can then be used for predictive analytics or to optimize processes.
Monitoring equipment's efficiency and using advanced diagnostics means machinery will be less likely to cause unplanned downtime. Facilities relying on aging, unconnected infrastructure can suffer huge production losses if components fail and manufacturing is halted.
Retrofitting To Industry 4.0
The advantages of Industry 4.0 are vast. Connected factories can be made more flexible, be monitored remotely, offer an improved workplace for staff, facilitate predictive analytics and more. The bottom line is that data must be gathered, turned into information and communicated to achieve this.
Thankfully, these capabilities don't have to be built into a machine, meaning that if you want to reap the benefits of Industry 4.0, you don't have to build an entirely new factory. This is good news, particularly for small and medium enterprises (SMEs), who are unlikely to be able to afford large amounts of new equipment.
Retrofitting adds new capabilities or functions to equipment, that it didn't have when originally designed and built. It could be a case of adding a connected sensor to a motor or replacing older components with new, more advanced equipment. One of the most popular ways to do this is to add flexible modular devices to capture, process and transfer data.
Retrofitting has become a large market, as it can improve energy efficiency, processing speeds, machine reliability, reduce the need for maintenance and extend system life. For example, Bosch Rexroth has used its Internet of Things (IoT) gateway to reduce costs by 25 percent at one of its German facilities, by fitting production test risks, which took only four hours to fit. To get the most out of retrofitting, it should be a gradual and managed process.
What's The C atch?
Though retrofitting makes it possible to connect legacy equipment to the Industrial Internet of Things (IIoT), it can be challenging to implement across a facility. Old equipment can be difficult to digitalize and connect, as they were not designed to do so. Some legacy equipment may be poorly documented or understood, which can leave some uncertainty about what the consequence of a retrofit will be.
Because equipment in factories has often come from different vendors and operates to different communication platforms, it can be difficult to connect it to the system and to each other. Interoperability can, therefore, be a huge hurdle for companies migrating to smarter methods of production. Engineering staff must maintain a huge amount of knowledge to optimize heterogenous systems.
Manufacturers must take security into account when retrofitting, because adding a new application to an old system could introduce security risks if the system was not designed to be connected to the internet.
Where Do I Start?
Well structured retrofitting, rather than random patching, is the best way to future-proof your upgraded factory. Simply monitoring whether equipment is on or off and how much the system is producing can give you an indication of effectiveness and performance.
One example is a smart bridge adapter, which enables process data collected by field devices to be communicated with a mobile device via Bluetooth. This connects information which would usually have remained in the machine to facility staff, who can then make use of it in maintenance.
Quick gains can also be made by connecting older machines to the internet, using connected sensors. This can connect to a controller, which collects data and converts it to a usable format, such as OPC-UA, so the information can be made available to the rest of the factory network.
Businesses have been quick to tap into this trend, with organizations like Bosch, SKF and Festo all offering retrofitting solutions to increase the connectivity of legacy equipment. To reap the benefits, companies need to determine what influences product quality, downtime and efficiency. They can then retrofit sensors to measure and communicate the information to higher level systems, teaching old equipment new tricks.
Jonathan Wilkins is the marketing director at supplier of industrial obsolete parts EU Automation.