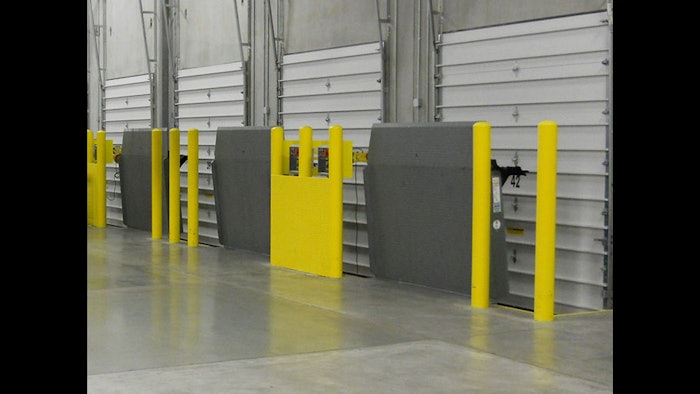 The loading dock is an essential lifeline to ship products in and out of any manufacturing facility. Unfortunately, oftentimes it's the easiest place for unwanted pests and debris to gain access.
And because many manufacturing facilities were built with loading dock areas that open up to the manufacturing floor, outdoor particulate such as dust, precipitation and even insects and rodents can gain entry to areas that create situations from nuisances to hazards. Additionally, any conditioned air inside the facility can easily escape a loading dock door – even ones that have a trailer secured to the building.
By addressing these dock operation challenges – and taking advantage of state-of-the-art solutions to them – facilities managers can take big steps toward ensuring the safe and timely delivery of products moving through their system. One of the most comprehensive ways to address many of these issues is to implement a drive-through application at the loading dock. Let's first examine common troubles associated with traditional loading dock set-ups.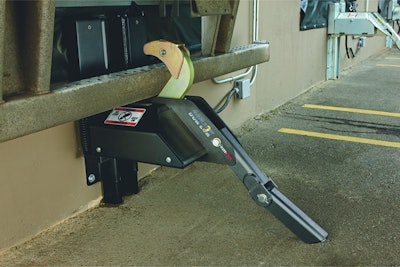 Contamination Risks
Any gaps in the perimeter of a dock opening allow outside contaminants like rain, dust or insects to infiltrate the facility during the loading or unloading process. Temperature and humidity control are also compromised by these gaps – which can lead to spoiled or damaged goods.
Early opening of the trailer is another concern. When the security seal on trailer doors is broken outside the building and the doors are opened in the drive approach by someone other than facility employees, companies have no way of knowing if the contents have been tampered with. This all-too-common occurrence creates a host of potential security issues.
Loading Dock Energy Losses
From an energy standpoint, these gaps around trailers translate into hundreds of dollars of conditioned air flying out the door.
Even when trailers are at the loading dock, 1- to 2-inch gaps often exist between a swing-open trailer and the edges of the dock opening. While an inch might seem insignificant, it equates to a 2.5-square-foot hole at just one dock opening; something that would be completely unacceptable if it were so obvious. These gaps can represent anywhere from $600 to $1,200 worth of lost energy every year. Multiply this over multiple dock doors and the financial loss is significantly more profound.
But the sides of the dock opening aren't the only gaps in the building's perimeter. Many facility managers forget about the "fourth side" of the dock – the bottom end, where the leveler, trailer, and dock seal or shelter all meet. Depending on the size of the opening, that gap can result in another $200 to $900 lost annually.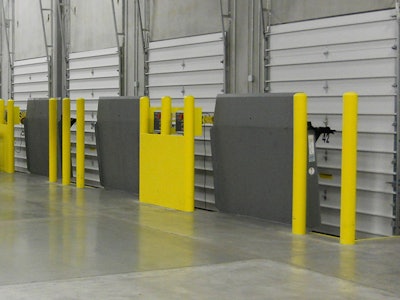 Sealing The Perimeter
One of the best ways to keep contaminants out – and conditioned air in – is to address the perimeter of the dock door. A loading dock seal or shelter creates an environmental barrier between the back end of the semi-trailer and the perimeter of the dock opening. Seals and shelters help keep wind, rain, snow, dust, bugs and other contaminants outside the building.
In particular, shelter designs that complement the vertical storing dock leveler and allow trailer doors to be opened inside of the building are ideal. Through special design features, shelters ensure tight sealing against trailer sides, across the full width of the trailer top and at the corners, without interfering with trailer doors being opened and closed after the trailer has been parked at the dock.
An effective dock sealing system also helps prevent weather-related product damage and contamination, protecting and securing the integrity of products as they move in and out of a facility during manufacturing, processing, and shipping.
The "Gold Standard"
Drive-through dock configurations utilizing vertical-storing levelers are considered the gold standard for maintaining cold chain integrity, environmental control and security. This is because security seals and trailer doors can be opened and closed inside the loading dock – thus eliminating any exposure to the outside environment.
Vertical levelers also have maintenance advantages. Unlike pit-style levelers, vertical levelers store up and out of the way, making it easier to clean and wash down the floor. Moreover, vertical levelers (when in the stored position) allow the dock door to close directly onto the pit floor for a tight seal.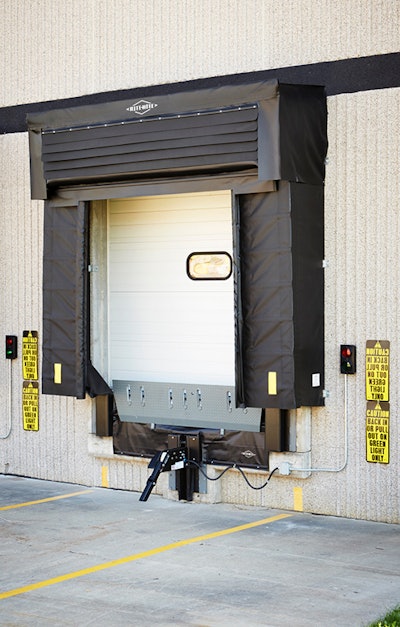 Locking The Trailer To Loading Dock
Vehicle restraints are usually thought of as dock safety equipment. But, they also play a role in the drive-through application.
Many dock locks are automatic nowadays, using a rotating hook to secure a trailer by its rear impact guard (RIG) to the loading dock. However, intermodal containers are often transported on specialized chassis that have an obstructed RIG, making it nearly impossible for the locking mechanism to fully engage with them. As intermodal traffic continues to increase, it is important for facilities to consider advanced restraints that use "shadow" hook technology, which provides an additional pivot point capable of securing trailer chassis with obstructed RIGs.
Some automatic restraints also feature a control panel that can be integrated into building management or security systems. The most advanced restraints will actually re-fire if there is tampering or the trailer attempts to pull away when in the locked position.
Protecting The Supply Chain At The Loading Dock
While no two supply chain systems are exactly the same, a systematic drive-through application at the loading dock will almost always result in significantly enhanced safety and security. While these systems have many elements, equipment like automatic vehicle restraints, vertical dock levelers, and appropriate seals/shelters form the core pieces. Working together as a system, these can improve the integrity of the overall supply chain, help protect employees, reduce contamination and improve environmental conditions in the process.
Walt Swietlik is director of customer relations and sales support for Rite-Hite, a world leader in the manufacture and sale of loading dock equipment, industrial doors, safety barriers and HVLS industrial fans.
The information provided herein is provided as a general reference regarding the use of the applicable products in a specific application. This information is provided without warranty. It is your responsibility to ensure that you are using all mentioned products properly in your specific application and in accordance with all laws and regulations.