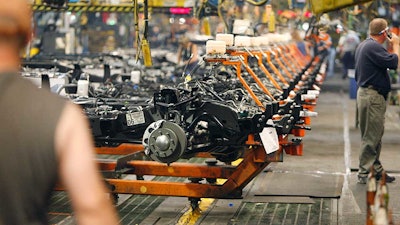 Day-to-day productivity is critical to the success of any manufacturer. Industry professionals are quick to implement strategies in lean manufacturing and other proven methodologies when trying to improve their production numbers, but these systems aren't for everyone. In some cases, the initial confusion, new processes and complicated jargon added by such programs have the opposite effect on employees.
The rapid development of technology also demands a new approach to productivity in manufacturing. With next-gen technologies like the cloud and the Internet of Things (IoT), as well as the onset of Industry 4.0 and the dawn of smart factories and warehouses, the entire industry is evolving. Here are some ways in which productivity can be improved with and without next-gen tech.
1. Introducing Cobots to Factory and Warehouse Environments
Despite the potential for vast improvements in productivity, many manufacturers are still hesitant to implement too much automation on the factory or warehouse floor.
With employee concerns that robots will take their jobs, business owners don't want to risk scaring off their top talent.
But robots bring a lot to the manufacturing industry in the 21st century. It's hard to ignore their usefulness, so some industry leaders are using cobots — collaborative robots — to fit the bill.
While they're still capable of strengthening productivity across the board, they rely on human workers for tasks like programming, maintenance and, in some cases, day-to-day operations.
2. Using Personal Workspaces More Effectively
Most industry veterans have worked in a cluttered workspace, crowded factory or disorganized warehouse at one time or another. Some are still struggling within similar environments just to maintain minimal levels of daily productivity — but it doesn't have to be this way.
Even if bosses or managers are unwilling to participate, workers can — and often do — optimize their personal workspaces. Something as simple as adding family portraits to the walls of a cubicle goes a long way in boosting morale and motivation.
Installing racks or shelving is a great way to organize files or even tools, finished parts and raw materials. Delivery trucks and service vehicles benefit immensely from such hardware, as it simplifies the sorting and distribution of packages.
3. Embracing the IoT and Industry 4.0
The IoT is a hot topic in the manufacturing industry — and for a good reason. As a major component in the Industry 4.0 revolution, the IoT has been hailed as the next big thing in productivity.
Manufacturers are already starting their transitions to the IoT. Some early applications include the following.
Streamlined costing processes: The IoT makes it easier to provide cost estimates quickly and on the fly. Not only does this improve customer service, but it ultimately increases a manufacturer's competitiveness in today's market.
Synchronized operations among facilities: Manufacturers that operate multiple plants currently use the IoT to help determine which factories produce which products. Decisions like this can save — or cost — a company a lot of time and money, so it's important to make the right choice.
Real-time supply chain management: The modern supply chain benefits immensely from the IoT and its real-time data processing capabilities. Breakthroughs like this make it possible to monitor inventory levels remotely, track parts and raw materials as they move throughout the supply chain and so much more.
Although it's still in its earliest stages of development, the IoT holds a lot of promise for future manufacturing operations.
Using All the Available Resources
In the manufacturing industry, productivity is all about IDA — information, decision and action.
Big data gives industry leaders access to all the information they need. Intelligent robots now make automated decisions on behalf of their owners. The only thing that's left is action — and that part is up to the individual.