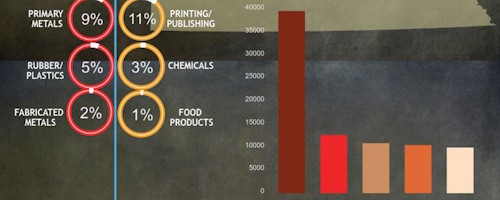 Nebraska manufacturing employment inched down for a second straight year, reports the 2017 Nebraska Manufacturers Register, an industrial database and directory published by Manufacturers' News, Inc. (MNI) Evanston, IL. According to MNI's database of manufacturers, industrial companies in Nebraska shed 306 jobs between August 2015 and August 2016, or less than one percent.
Nebraska is home to 2,604 manufacturing companies employing 125,400 reports MNI. Losses recorded over the 2015-2016 survey were on par with the 236 jobs reported lost over the 2014-2015 period.
For the full report, including a regional analysis, click here or visit http://www.mni.net/news/
"The oil industry's decline has affected many Nebraska manufacturers that supplied nearby oilfields, and a strong dollar continues to curb exports," says Tom Dubin, President of the Evanston, IL-based publishing company, which has been surveying industry since 1912. "However, the state's stronghold in the food processing sector combined with a business-friendly environment have helped to keep losses at bay."
Additional industries in Nebraska that lost jobs included primary metals, down 9%; rubber/plastics, down 4.6%; lumber/wood, down 2.7%; electronics, down 2.4%; and fabricated metals, down 1.8%.
According to MNI, Nebraska's food processing industry remains the state's largest by industrial employment, with 39,663 jobs. Employment in food processing inched up slightly over the past year, adding a net 134 jobs.
Other industries in Nebraska adding jobs included printing/publishing, up, 11%; and chemicals, up 3%.
City data collected by MNI shows Omaha ranks first for number of manufacturing jobs, with 31,658 workers, virtually unchanged over the past year. Second-ranked Lincoln accounts for 20,957 jobs, up 4.4%, while third-ranked Grand Island accounts for 7,957 workers, down 8.3%. Columbus ranks fourth with 5,031 jobs, with no significant change reported, and Dakota City also held steady at 4,058 workers.