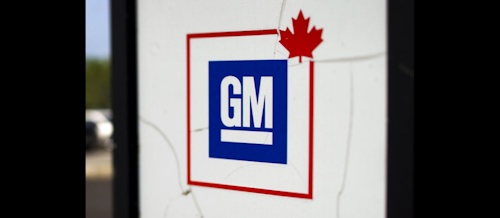 General Motors and Canadian auto workers on Tuesday announced a tentative agreement on the terms of a new labor contract, which will avoid a possible strike and sets the stage for pacts covering more than 20,000 Canadians employed by U.S. automakers.
The contracts between Unifor and GM, Ford and Fiat Chrysler were set to expire at the end of the day on Monday, and observers warned that negotiations could become contentious.
Union leaders had vowed to strike unless automakers committed to new production in Canada, while company officials would not make those promises until future labor costs were determined.
The union selected GM for initial collective bargaining talks earlier this month and said that "around-the-clock negotiations" led to an agreement that would cover its roughly 4,000 GM members.
The GM deal will serve as a model for talks with Ford and FCA; it must still be ratified by rank-and-file union members.
GM said that the deal will enable "significant new product, technology and process investments" at its plants in Oshawa, St. Catharines and Woodstock, Ontario, while Dias told the Associated Press that workers would receive raises and lump-sum payments. Some 700 temporary GM workers will also be upgraded to full-time status.
"This framework puts into motion what will be a historic agreement to secure a future for our members, for our communities and for the auto industry in Canada," said Unifor National President Jerry Dias.