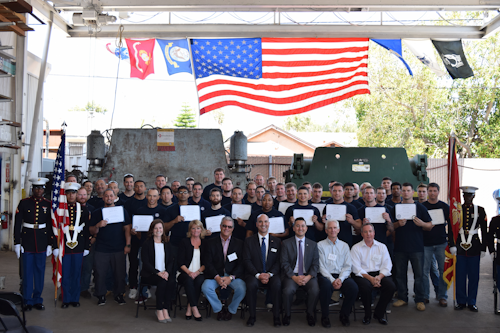 SAN DIEGO, CA – Workshops for Warriors, a nonprofit school assisting veterans who are transitioning into civilian life through advanced manufacturing training, certification and job placement, held its spring graduation at its educational facility last month.
A total of 46 graduates were honored, enabling them to immediately integrate into large and small manufacturing organizations throughout the U.S., and two were acknowledged for achieving 14 certificates during the semester. 
"We're extremely proud of these men and women not for only what they did to serve our country, but for having the passion, drive and dedication to move forward and obtain the education needed to pursue a new career in the manufacturing space," said Hernàn Luis y Prado, founder of Workshops for Warriors. "The graduation was extra special because we had two veterans, Ryan San Vicente and Erik Davies, who both obtained 14 certificates. That is a remarkable accomplishment."
The event included a Marine Color Guard, remarks by Workshops for Warriors Founder Hernán Luis y Prado, three student speakers and comments by guest speaker, Meghan West, president of CNC Software, Inc., developer of Mastercam.
Each semester runs 16-weeks and offers students credentials from top industry organizations such as the National Institute for Metalworking Skills, Mastercam University (computer-aided manufacturing), SolidWorks (computer-aided design) and the American Welding Society. 
Founded in 2008 as a workforce training facility, founder Hernàn Luis y Prado founded the organization after 15 years of active duty service as a U.S. Navy officer with combat tours in Afghanistan and Iraq. He recalls, "I saw more of my fellow service members die of suicide and drugs in San Diego than die from bombs and bullets in Baghdad. I needed to change that." From 2011 to 2015, Workshops for Warriors trained more than 200 veterans and wounded warriors, all of whom obtained jobs in advanced manufacturing immediately after completing their programs.
Summer classes begin in May To learn about enrollment or donating to help support the program and its mission, visit https://workshopsforwarriors.org.