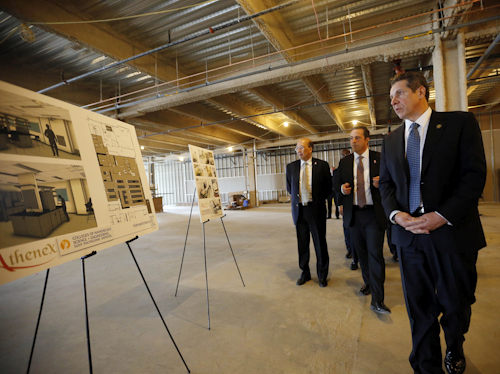 ALBANY, N.Y. (AP) — Gov. Andrew Cuomo said Tuesday that he believes in the labor movement, telling union construction workers he won't sign legislation in New York that's not fair to organized labor.
Addressing a North America's Building Trades Unions conference in Washington, Cuomo said unions built the middle class in America and protect it, and that there's a growing anti-union movement in the country. He said the state has plans for road and construction projects beyond the new Tappan Zee Bridge getting built over the lower Hudson River.
"Every project we build is going to be built with organized labor, period," Cuomo said.
While he supports further affordable housing programs for New York, Cuomo criticized proposals to make government-subsidized construction projects open shops where workers don't have to join a union. He supports the prevailing wage set by state labor officials "because people deserve a decent living for a decent day's work," he said.
"It's open shop or a government program that recognizes the importance of union labor and prevailing wage. That's what's at stake, and that's what's on the table," the second-term Democrat told the unionists, who cheered him. "I will stand shoulder-to-shoulder with organized labor. I will not sign a bill that does is not accepted as a fair deal by organized labor and by the building trades."
Brian Sampson, president of the Associated Builders and Contractors, Empire State Chapter, said the construction unions have said they won't accept any deal to renew the affordable-housing program without the prevailing wage, though the New York City Independent Budget Office found it would raise construction costs about 28 percent.
"Gov. Cuomo's blind loyalty to big union bosses is irresponsible, and it's killing affordable housing and good jobs," Sampson said.
Cuomo and North America's Building Trades Unions have both endorsed Hillary Clinton for president. She was scheduled to address the conference later Tuesday.
Gary LaBarbera, president of the Building and Construction Trades Council of Greater New York, praised Cuomo for "standing up to developers by advocating for prevailing wages on projects financed by taxpayer dollars."
The Real Estate Board of New York, which represents developers in the city, said the state program has accounted for a significant share of recent construction of affordable housing, particularly in areas where it's difficult to build below-market housing.
"Attaching a construction prevailing wage to the program will dramatically increase the cost of the program and/or result in a lot less rental housing," spokesman Jamie McShane said.
The program, which provides developer tax breaks, expired this year after the board and trades council failed to reach agreement on wage rates.