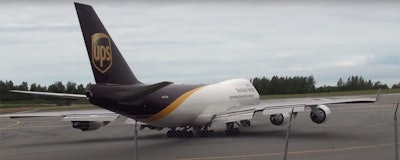 Aircraft mechanics and other maintenance workers on UPS' air cargo fleet vowed to make another effort to strike in an ongoing contract dispute with the parcel giant.

Tim Boyle, the president of Teamsters Local 2727, told Reuters that the union would again seek permission to strike if UPS does not agree to maintain members' current health plans at the company's shareholder meeting next week.

"We're not willing to back off of this and we will strike over it," Boyle said.
Contract talks began in 2013 and stalled last spring; members of Local 2727 voted in the fall authorize a strike and alleged that UPS sought "massive" health and retiree benefit cuts.

Federal regulators denied the union's request to strike under the U.S. Railway Labor Act, which requires negotiation and mediation options to be exhausted in talks that could impact traffic and commerce.

Union leaders ramped up their efforts to pressure UPS this week. In addition to the pledge to again seek approval to strike, the union planned demonstrations in UPS' native Atlanta and at in Wilmington, Del., where the shareholders meeting will take place.

The union also ran an open letter to UPS executives — signed by more than 900 of its 1,200 members — as an ad in the Atlanta Journal-Constitution.

"We have dedicated our careers — decades upon decades — to this company," members wrote. "We do back-breaking work, work long hours and put our health at risk to build profits for UPS."

A work stoppage would be the first at UPS in more than two decades, but numerous other hurdles remain even if a strike is cleared by regulators.

UPS responded that mediation remains ongoing and that it continues to negotiate in good faith.

"The union's talk about a job action is simply posturing and a common union tactic designed to pressure talks," spokesman Mike Mangeot said in a statement to Reuters.