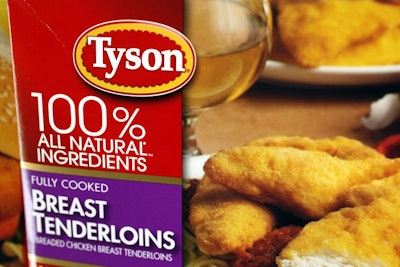 Arkansas meat giant Tyson Foods plans to introduce "significantly" higher wages at select U.S. plants as it seeks to improve employee retention in a tight labor market.

The pilot program would impact base wages at two poultry plants as well as reduce the amount of time needed for those workers to jump to higher pay rates, the company said in a statement.

Tyson officials also said that the company will hire more than two dozen additional trainers for its poultry plants, include hourly workers in plant safety councils and expand a safety communications program.

"We've always been committed to supporting our employees and have sound workplace practices in place, but also want to do better," said Chief Operations Officer Noel White.

The new steps come, The Wall Street Journal notes, as Tyson and other companies struggle to keep workers at notoriously difficult slaughterhouse jobs.

Tyson broadly committed to eliminating turnover and workplace injuries, but on a year-over-year basis, the company set goals of 10 percent improved retention and a 15 percent decline in illnesses and injuries on the job.

The company also vowed to publicly share the results of independent plant audits, as well as continue partnerships with groups such as the Cisneros Center for New Americans, Oxfam America and the United Food and Commercial Workers Union.

Oxfam previously criticized the nation's poultry industry over working conditions at plants.

The efforts, officials said, were part of company initiatives to create a stronger workforce and more sustainable company.

Tyson noted that pay and benefits were previously increased in November and January, respectively, and that more than 260 trainers and 30 training coordinators were already hired for its poultry plants since 2015.

The latest measures are expected to be paid for through reduced waste and costs.