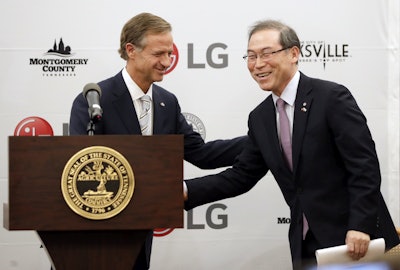 South Korean appliance maker LG Electronics Inc. announced Tuesday that it has selected Tennessee as the site for its first washing machine plant in the United States.
The 829,000-square-foot facility is projected to cost $250 million and create 600 new jobs. The plant will be built in Clarksville, about 40 miles northwest of Nashville.
Dan Song, the president of LG's home appliances division, called Tennessee the "clear choice" for the new plant after a national search dating back six years. Republican Gov. Bill Haslam's administration declined to detail the incentive package offered to LG because the contacts had not yet been finalized.
South Korean tire maker Hankook also has a new plant in Clarksville, and the company announced last year it was moving its North American headquarters from New Jersey to downtown Nashville.
LG is in the process of building a new $300 million headquarters facility in Englewood Cliffs, New Jersey.
The new LG plant in Clarksville will be near a new Google data center on the planned $1.2 billion Hemlock Semiconductor site that was shuttered in 2013. The company disassembled the plant and donated 833-acres of land back to the city and county.