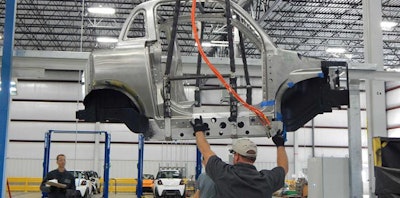 The future of an electric car maker that once had grand promises for a corner of the Mississippi Delta is growing even murkier.
GreenTech Automotive laid off at least some of its 75 employees at its Tunica County plant this week.
Mississippi's state employment service said it had been told the company is "shutting down," but agency spokeswoman Dianne Bell said Thursday that the agency hasn't been able to reach the company to provide layoff assistance.
The company — which has faced a federal securities investigation — did not respond to The Associated Press on Friday.
The company once planned to build 250,000 cars a year and invest $2 billion, but long ago downsized those plans, promising the state it would invest $60 million and hire 350 workers. GreenTech never met those thresholds, telling the federal government in 2015 that it had 75 workers.
GreenTech missed the initial deadline for the first payment on its $3 million loan from Mississippi, but eventually scraped up $150,000 in November, four months late.
Besides the $3 million loan, Mississippi loaned Tunica County $1.9 million to buy the site and exempted the company from income, franchise and sales taxes.
The company announced it had started production on a two-seat "neighborhood electric vehicle" in October 2015, but it's unclear how many of those cars were ever made. The Roanoke Times reported in May that a U.S. Citizenship and Immigration Services document showed GreenTech had produced only 25 cars and sold none. Documents obtained by AP through a Freedom of Information Act request were less definitive.
The Mississippi Development Authority said it was renegotiating its incentive agreement after GreenTech fell short of investment and employment targets. Authority spokesman Jeff Rent said Friday that the state hasn't reached a new agreement.
"MDA continues to work with the company," he wrote in an email.
Mississippi has lost money on a number of other alternative energy projects, and has twice sold equipment for pennies on the dollar after a company failed.
GreenTech had told the development authority that it would raise cash through a merger with a Chinese company, saying it was awaiting approval from Chinese regulators.
Tunica County Chamber of Commerce CEO Lyn Arnold told The Tunica Times that GreenTech isn't closing and is still negotiating a merger.
Previously, GreenTech raised money from Chinese people who can obtain U.S. residency by creating 10 jobs and investing $500,000. Documents show the citizenship agency decided to reject a number of visa requests made through a fund run by Hillary Clinton's brother, Anthony Rodham, because GreenTech created so few jobs.
A 2015 report found a federal official broke ethics rules when he aided GreenTech's visas. Among former insiders is Virginia Gov. Terry McAuliffe. The Democrat divested his interest before becoming governor, but acknowledged in May that he's under federal investigation. GreenTech has also faced an investigation by the U.S. Securities and Exchange Commission. The status of that probe is not clear.