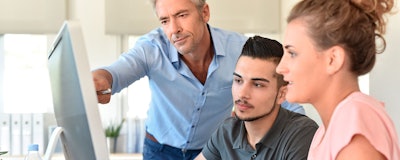 The middle market is feeling the effects of an economy with historically low unemployment rates: A recent RSM US Middle Market Leadership Council survey found that 72 percent of companies are struggling to find skilled labor, while 42 percent are experiencing the same difficulty with unskilled labor.
According to the National Association of Manufacturers, nearly 3.5 million manufacturing jobs will likely be needed over the next 10 years, and 2 million are expected to go unfilled. This is due in part to an aging workforce, a particularly problematic issue in trades like construction that require physical strength and endurance. According to the Manufacturing Institute, the median age of the manufacturing workforce in 2000 was 40.5; by 2012, it reached 44.7. In construction, for example, there is a 6.2 million-worker deficit expected to hit by 2024.
Changing Jobs, Changing Needs
In addition to a tight labor market, the technology tsunami that is cresting over manufacturing is forcing companies to take a second look at their business models. Working with innovative technology requires a certain skill set, and it's getting harder to attract and retain a qualified workforce.
In developed nations, the history of manufacturing production has been consistently redefined by fresh waves of technological advancement. Today, the United States is evolving as leading-edge digital technologies disrupt conventional approaches to production operations—and, by extension, workforce needs.
An Ohio-based injection molding and plastics company working with 3-D printing tools, for example, was able to reduce its direct labor costs on the production floor, but needed to hire 15 engineers with specialized credentials in biomedical, chemical and mechanical disciplines. This is not the shop floor of yesterday. Such an environment can create symbiotic relationships: employers need the skill sets to get the job done; employees entering the workforce expect a much higher level of technology than previous generations.
What is Being Done to Attract Employees?
With these changes in mind, manufacturers, industry associations and communities are taking a number of approaches to attracting, developing and retaining a qualified workforce:
Working with educational institutions: Companies need to develop long-term strategies for recruitment and explore multiple channels in their search for workforce personnel. In recent years, this has meant working with local community colleges, vocational schools and even high schools to attract and retain talent. Regionally focused training programs are particularly effective when they focus on a specific local market and customize curriculums to align with local labor needs.
Training underemployed cohorts: The Manufacturing Institute is helping manufacturers connect with the thousands of veterans returning home each month. The institutes' Heroes MAKE America program provides veterans with industry-specific training and certification, and gives employers a skilled personnel pool. In addition, initiatives designed to help nonviolent ex-offenders ease back into the workforce have been instituted in states across the country. These programs are often supported by local governments and include training for high-demand, middle-skill jobs. Alternatively, because the labor market is so tight, some firms are taking risks with hiring individuals who do not have the skills they need, and increasing outlays on in-house training so these workers can perform the tasks necessary for their roles. Course development and the integration of technology into these training programs become additional challenges. 
Offering educational assistance: Employer-provided education is increasingly popular in an environment of high education costs and specialized job duties. Providing the opportunity to participate in educational programs not only improves recruitment and retention, but also helps employers maintain an educated and skilled workforce. Fortunately, tax rules allow employers avenues to pay for employee education without creating taxable income for employees.
Using technology to enhance engagement: Digital technology initiatives have emerged as a key factor in employee retention, but technology itself is not a magic bullet. Companies must develop and implement a technology strategy that balances several requirements, including communication needs and organizational goals. Leveraging technology to enhance employee engagement requires a commitment from company leadership, including an appropriate commitment to the required resources. For employers, integrating training and quality control into the operation of certain machines can improve job performance and production levels. 
Developing talent through apprenticeships: According to the Department of Labor, there are some 550,000 apprenticeships across the country, and more than 150,000 businesses have integrated the apprenticeship model into their talent development strategy. For employers, the benefits of apprenticeship programs include enhanced company performance, reduced turnover, improved recruitment and a competitive advantage over other firms. For employees, registered apprenticeship programs provide a career path and certification as a qualified journeyman, among other benefits. Although middle market companies operating on thin margins may not be able to afford such programs, the costs can often be offset by government grants and support from industry associations.
Providing appropriate benefits and incentives: Understanding what drives potential workforce talent is critical to attracting and retaining them. Incentives that address the work environment, career development and compensation are attractive, and these are being offered by a plurality of middle market companies. But age can have a profound impact on the way incentives are viewed, and what boomers want may be quite different from what millennials seek. Employers need to strike a balance between the benefits they can afford to offer and those potential employees of different generations value.
Increasing compensation: In light of Amazon's announcement to raise its minimum hourly wage, it may be too early to tell how widespread wage hikes are being used to attract personnel. Although hourly wages have been rising, they have generally been simply keeping up with inflation. Some manufacturers, however, are offering short-term bonuses as enticements to sign up and stay on the job. Other manufacturers are changing their economic models and offering profit-sharing options to employees who enable them to reap the rewards of their work. As a result, employees are empowered to make improvements that improve productivity and, ultimately, profitability.
Changing roles: Skills are only part of the workforce dilemma to attract personnel. Millennials and Generation Z right behind them say they want plenty of interaction with their bosses and a highly collaborative environment, and they don't want to be treated like nameless, faceless employees—all of which can be overcome with proper outreach and initiative by management. Most millennials and Gen Zers say they look for a sense of purpose when choosing an employer. In addition, there is a desire for a relatively flat organizational hierarchy, and work lives that align fairly seamlessly with their personal lives. They want clear career paths and to feel trusted, along with spontaneity and an institutional tolerance for risk-taking. They want transparency and honesty from management, and want their friends to respect what they do.
The Way Forward
In 2017, the Federal Reserve noted that labor shortages and the increased labor costs associated with attracting workers were restraining growth in a number of its districts, notably in manufacturing and construction. Moreover, the difficulties of recruiting in a tight labor market can leave jobs open for longer periods.
Notably, the rise in innovative technologies and automation will drive the creation of more hybrid jobs, where manufacturing employees will need a combination of advanced production, information technology and problem-solving skills in order to succeed. This may open up new avenues for manufacturers to recruit and retain a tech-savvy younger generation, who may have an easier time embracing a more technology-driven workplace.
Attracting labor is the first step; retention is driven by job satisfaction. To that end, the companies to watch are those establishing a work environment where employees have opportunities to contribute to company goals and therefore, feel valued—and want to stay.  
Steve Menaker is RSM US LLP's national industrial products industry leader.