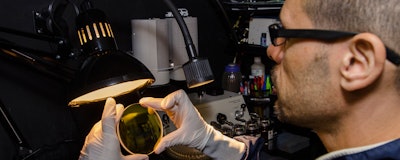 Eleven years ago, Optimax Systems Inc. in upstate New York was facing a problem that many employers are now all too familiar with. The rapidly growing optics manufacturer was struggling to find skilled workers to craft their products installed in high-tech products such as medical devices and NASA equipment. Optimax President Mike Mandina knew that this systematic workforce shortage would require a comprehensive, long-term solution for the region. Optimax was not the only manufacturer in the region grappling to find employees. After collaborating with educators and community leaders, Mike Mandina and a core of stakeholders founded FAME, Finger Lakes Advanced Manufacturers' Enterprise, a not-for-profit that strengthens the manufacturing talent pipeline. This workforce investment improves operations for not only Optimax, but other area manufacturers as well.
FAME designed an educational ecosystem that teams up with local colleges and high schools to provide outreach and training for skills that are directly applicable to manufacturing jobs. The manufacturing companies that participate in FAME are small and may not have the same resources and institutional knowledge to design a training program that would attract employees.
Key components of FAME include apprenticeship programs that provide on-the-job skill development with mentors who share opportunities about job openings and guiding qualified manufacturing technicians from school to work. Optimax's internal apprenticeships go beyond the cut-and-paste definition of the term.Their's is an extensive three-year learning program where apprentices are paired with mentors that guide them from students to trained opticians. The students are continuously challenged with progressively complex projects. Students move from the classroom to Optimax's self-managing production cells once they are fully trained.
Studies from the National Fund for Workforce Solutions and publications from The Pinkerton Foundation find that companies adopting business practices that enable training and advancement opportunities will often yield improved motivation from employees, thereby improving companies' competitiveness. With unemployment ticking below four percent, competitive employers are not only in the business of maintaining their operations but are also in the business of selling employment opportunities to the best available candidates. Evidence is accumulating across many sectors that prove when an employer is a steward of quality jobs, they gain a competitive advantage.
The National Fund has identified Optimax as a manufacturer that has a competitive edge in their sector because the company provides good jobs. The company's manufacturing space will be doubling to over 100,000 square feet. Additionally, the optics manufacturer will be growing their workforce by 50 percent by 2025 and is growing 20 percent annually in a sector that is averaging a four percent growth rate. Through cross-training and long-term learning, Optimax has honed their workforce to be fast, cost-effective and precise. Staff know the entire process of completing a product, making Optimax's workforce agile and resilient to uncertainties.
Optimax is by no means a large manufacturer, but the employee benefits and continuous learning within the company are dramatic. Employees are given a gain-sharing at 25 percent of the monthly profits, and tuition is completely paid for.
"It is too costly not to train [the staff.]" says Alejandro Mendoza, Optimax's human resources manager.
The company culture has adopted a sense of pride in the work of each employee, which has bolstered a strong sense of trust. Trust in a business that requires precision and reliability benefits both company profits and morale.
"Sharing knowledge, skills and information keeps us on the cutting edge," says Andy Haefner, a manufacturing Group Leader.
The resources that Optimax set up to design FAME are paying off not only for their own operations, but for the region. The strategy to invest in the workforce on a comprehensive level, from educators to employers to workers, is imperative to gaining a competitive edge. The National Fund has seen this trend to proactively invest in employees as a long-term solution to maximizing innovation and the economy.
FAME decided last year to bring a unifying product to the region called EdgeFactor. EdgeFactor is a small company that has created an innovative solution to closing the skills gap. It has created the online framework that supports an ecosystem of employers, educators, students and parents. With significant community participation, EdgeFactor can close the skills gap even further. Additional public/private partnerships like FAME are critical to building the ecosystem required for success.
The National Fund for Workforce Solutions is a national network promoting economic opportunity and prosperous communities through investment and innovation. Based in Washington D.C., the National Fund partners with philanthropy, employers, workers, public and private community organizations and more than 30 regional collaboratives to invest in skills, improve systems and generate good jobs. The National Fund supports civic and business leaders in promoting evidence-based practices and policies that build shared prosperity.
FAME is an initiative of the Finger Lakes Workforce Investment Board and a collaborative public/private partnership of regional stakeholders that are dedicated to investments in human capital.