For all the talk about automation and offshoring supposedly draining the amount of jobs available in American manufacturing, the numbers don't quite agree.
According to the U.S. Bureau of Labor Statistics (BLS), the total count of U.S. manufacturing employees has been rising steadily for the past seven years (see chart). The problem is, that rise has been glacially slow. Manufacturing employment hit a modern lowpoint of around 11,400 during the first quarter 2010, and has improved during the vast majority of the 93 months since through the end of 2017.
But those gains have been incremental. During that seven-year stretch, U.S. manufacturing employment has risen by only about 1,100 to a preliminary January 2018 mark of 12,555 released by the BLS in early February. Even with the Trump administration's considerable cuts in manufacturing regulations and overall message of 'Buy American, Hire American', the pace of U.S. factory job gains remained essentially the same it was throughout the final seven years of the Obama administration. February's manufacturing employment number is at the same mark the U.S. was at during 1946 when it was winding down following World War II.
Nevertheless, any job gains in this industry are a positive. Here's a deeper look at the February job numbers the BLS released on Feb. 2
Total U.S. nonfarm payroll employment increased by 200,000 in January, while the national unemployment rate remained at 4.1 percent for fourth-straight month. The unemployment rate appears to have leveled off since declining steadily from its 5.0 percent mark recorded in March, April and September of 2016.
Meanwhile, wages and benefits grew 0.6 during Q4 2017, with last year posting a total 2.6 percent rise — its best pace since the spring of 2015. Wages and benefits grew 2.2 percent during 2016.
Overall, the U.S. job market is strong at nine years into expansion following the Great Recession of 2008-2009.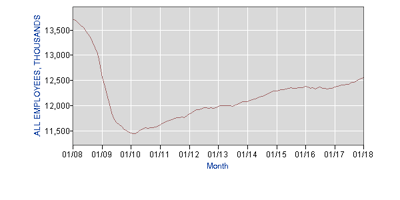 Looking specifically at manufacturing:
The U.S. added 15,000 manufacturing jobs during January, following a 21,000-jobs gain in December. Over the past 12 months through January, the U.S. has added 186,000 manufacturing jobs — averaging 15,500 per month.
January 2018's manufacturing unemployment rate of 3.4 percent was down considerably compared to 4.2 percent a year earlier, while the number of unemployed manufacturing persons declined by 16.9 percent year-over-year to 526,000.
Durable goods manufacturing gained 18,000 jobs in January. Top monthly changes from December 2017 were in:
Transportation equipment +5,700
Machinery +5,400
Fabricated metal products +3,000
Nonmetallic mineral products +1,900
Computer and electronic products +1,300
Wood products +1,300
Furniture and related products -1,300
Nondurable goods manufacturing lost 3,000 jobs in January. Top monthly changes from December 2017 were in:
Paper and paper products -2,200
Printing and related support activities -1,700
Chemicals -1,500
Wholesale trade added 9,800 jobs in January, following a gain of 10,100 in December, while warehousing and storage added 5,300 and 2,900 jobs in those two months, respectively.
The January employment report came one day after the Institute for Supply Management's January Purchasing Managers Index (PMI) of 59.1 percent showed a slight decrease of 0.2 percentage points from the seasonally-adjusted December reading. As any reading above 50 percent indicates expansion, January's reading shows continued strong expansion for the U.S. manufacturing economy as a whole, albeit at a modestly slower pace than in December.