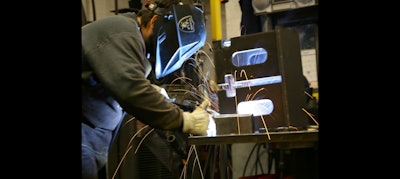 Manufacturing employment has become a cornerstone of today's political and economic discussion. Prior to his election, President Donald Trump campaigned on a promise to restore American manufacturing might — a message that propelled him to success in key battleground states in America's former industrial heartland. But as the months since his inauguration have passed, attention has shifted to whether this is possible.
Research suggests that manufacturing might and manufacturing employment may be two very different things. A deeper (and often-missed) issue is the severe shortage in the skills and talent necessary to staff a manufacturing resurgence.
U.S. manufacturing output continues to grow in spite of continually dwindling employment. Automation has led to an increase in labor productivity, and fewer people are required to produce ever-greater quantities of goods. This trend will not reverse, and it will likely accelerate as deep learning produces powerful artificial intelligence systems capable of automating tasks previously out of reach.
However, it is a myopic mistake to think that the manufacturing workforce of the future will be entirely — or even largely — robotic.
There Is No Replacement for Skilled Labor
There is still a sizable human component in today's manufacturing sector. A chief executive or operations leader considering reshoring or originating a manufacturing operation will need to hire increasingly skilled workers to operate increasingly complex machines — even though the number of opportunities will be proportionally smaller than in the past, the skills these opportunities require will be significantly more advanced.
Unfortunately, the current manufacturing workforce is aging, with few replacements on deck. Tesla, for instance, has recently resorted to recruiting engineers in Mexico to work in Fremont, California, as the automaker attempts to scale production at an accelerated pace. The U.S. skills shortage is severe, and the labor quality in Mexico is attractive.
One pervasive issue is that college graduates are no longer pursuing careers in manufacturing, as few consider it a path to a stable middle-class lifestyle. In fact, manufacturing still produces a middle-class wage of roughly $60,000 per year, on average, but decades of layoffs, bankruptcies, lost pensions, etc., have created a perception that manufacturing is a dead end. Despite this, the need for manufacturing labor remains high, and the sector has a lower rate of unemployment than the U.S. economy as a whole. Government figures suggest there are 324,000 vacant factory jobs across the country.
Another issue is that the training infrastructure necessary to produce skilled manufacturing workers has become dilapidated. In the past, workers were trained in vocational schools, technical colleges, apprenticeship programs, company training programs, and union training programs. Today, these programs have almost gone extinct, as corporate investment in the workforce and community has dried up in favor of cross-border labor arbitrage. Our high schools and colleges have also moved away from vocational training, instead funneling students into futures in the service sector.
That said, however, glimmers of hope are emerging. Some groups are reversing the trend and beginning to invest more heavily in training programs for their employees. Nissan is sponsoring and partnering with colleges, and the company even built a training campus in Tennessee to prepare employees for advanced manufacturing roles. In late 2016, the Obama administration allocated $90 million to expand apprenticeship programs.
The U.S. might take a lesson from European nations like Germany, which generate exceptional manufacturing talent through extensive vocational education programs. Germans don't see this as corporate social responsibility; they simply consider it sound business practice.
Now Is the Time to Revolutionize Recruiting
If the Trump administration's three-part tax reform passes — including a lowered corporate tax, an increased border tax, and a repatriation tax holiday — the U.S. can expect to see a significant increase in domestic capital investment. This will eventually create employment opportunities.
Companies seeking to build (or move) a production facility must determine the optimal balance between costs of technology, capital, taxes, labor, real estate, and shipping, then preserve that optimal balance by investing in the surrounding community for the long term.
That is not something that can be done overnight. The manufacturers who expect to thrive in the near and distant future must embrace innovative approaches to training and recruiting. It's a move that will benefit America's manufacturers and America's workers in equal measure.
Ambrose Conroy is the founder of Seraph and a member of its executive team. Seraph works with clients to transform, relocate, or restructure their business operations, and its team regularly works with lawyers as expert witnesses. Ambrose frequently works with leading international companies in the automotive, aerospace, energy infrastructure, and medical technology/device sectors.