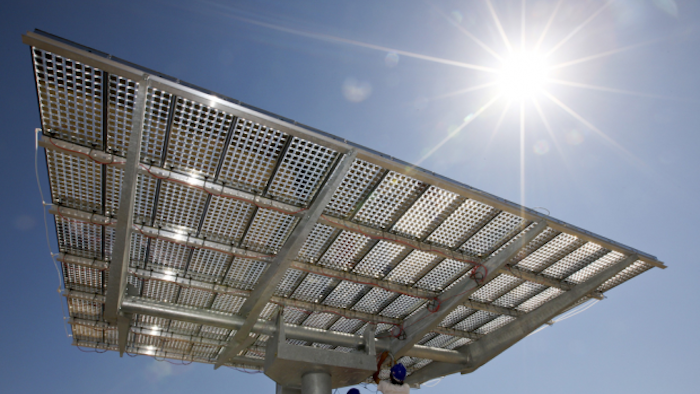 Albuquerque, New Mexico — New Mexico's largest electric provider has proposed charging fees to customers with rooftop solar systems, saying those customers still rely on the grid when the sun isn't shining and should pay their fair share of the fixed costs of maintaining the system.
The state's solar industry has vowed to fight PNM's proposal before the state Public Regulation Commission.
"This is the fight of the century for us," said Kevin Goodreau, vice president for business development at Direct Power & Water Corp. in Albuquerque, which designs and manufactures racks and other components for solar systems.
The Albuquerque Journal reports that PNM's effort to impose new fees is the latest in a push by utilities in many states to curb subsidies and incentives set up over the last eight years to help the solar industry get established. Utilities say the costs of going solar have declined, and it's time for solar businesses and customers to bear more of the burden.
PNM spokeswoman Susan Sponar said it's a fairness issue.
"The costs of solar are being picked up by other customers," she said.
The fees being proposed by PNM could range from $21 to $36 a month depending on the size of a customers' system, and industry representatives say charging a monthly fee could end up undermining the economic benefits of going solar.
Industry leaders say PNM and other utilities are ignoring the benefits that customer-owned photovoltaic systems bring to the grid. Many accuse the utilities of trying to end competition from distributed generation, which refers to people who now get their electricity from their own solar generating systems rather than large centralized plants.
"They just don't believe in distributed generation," Goodreau said. "They want all of the electricity generation on their side of the fence to charge customers. I believe the real intent here is to cripple our industry."
The solar fees are part of a rate case PNM filed with the Public Regulation Commission in early December. The new fees would only apply to future customers who install solar systems after Dec. 31, 2015. Current owners would be grandfathered in.
PNM also wants to eliminate the "banking" option, a practice that allows solar customers to get credited at retail rates of between 9 and 15 cents for every kilowatt hour of solar electricity they sell back to the grid when their systems produce more than they use.
PNM also is calling for an end to renewable energy credits for solar customers. Once the banking option disappears, the utility says it would instead immediately credit customers for avoided fuel costs each month for any excess electricity produced.
If PNM's monthly fees are approved, most customers who buy solar systems after 2015 will wind up paying more on their monthly bills than they did when just buying electricity from PNM, particularly after federal and state tax rebates decline or disappear.
That would discourage potential customers from buying systems in the future, said Patrick Griebel, general manager at the Affordable Solar Group in Albuquerque and a board member of the Renewable Energy Industries Association.
"I've done preliminary modeling and the numbers don't work with PNM's proposals," Griebel said. "It could kill the industry, because typical customers are 'green, but,' meaning they want to do the right thing but the numbers need to make sense."