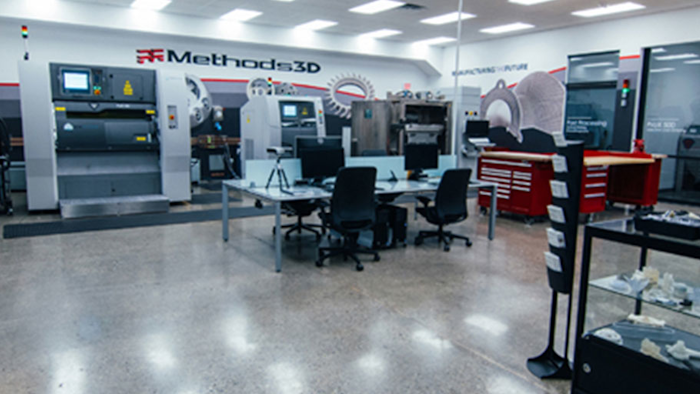 Methods 3D, Inc., a newly formed subsidiary of Methods Machine Tools, Inc., continues to broaden its presence in 3D printing through the completion of seven additive manufacturing laboratories strategically located across the U.S.
In addition, at International Manufacturing Technology Show (IMTS) 2016 Methods 3D introduced new advancements in 3D technology via an integrated production cell, made presentations and showcased the latest in 3D printing systems. Methods 3D has also added personnel to support its new infrastructure, and James Hanson was appointed as Chief Operating Officer (COO).
At IMTS, the Methods 3D booth featured a new concept demonstrating how 3D technology can be deployed in an automated production cell environment. 3D System's modular "Figure 4" cell was operating lights-out with Fanuc robotic arms, mass-producing multiple parts.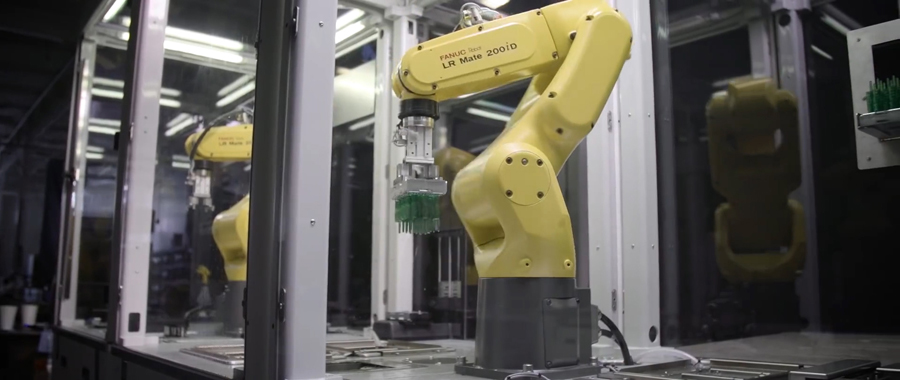 Discrete modules in the system enable automation to pass 3D printed parts from design to printing to washing, curing and final finishing, all without human involvement.
 Methods 3D advanced new additive manufacturing labs are outfitted with 18 printers including Direct Metal Printing (DMP), Select Laser Sintering (SLS), Stereolithography (SLA) and Multi-Jet models running 14 different materials. A full complement of post-processing equipment such as EDM, CNC machining, automation and inspection is also onsite and each location is fully staffed by a dedicated team of sales, application engineers and service technicians. The additive manufacturing labs are in each of Methods Machine Tools' technology centers including Sudbury, MA headquarters; Detroit, MI; Charlotte, NC; Chicago, IL; Phoenix, AZ; San Francisco, CA; and Los Angeles, CA.
"Our new additive labs are ideal for manufacturing professionals to consult our experts and explore ways to design and produce their components using the latest 3D technology integrated with conventional machining, automation and more," Hanson stated. "Engineers have been bringing their application challenges to us and we have been working with them to implement this technology into their manufacturing operations"
"By partnering with 3D Systems, whose core competencies complement Methods' suite of metalworking machining and automation solutions, we will provide our customers the most advanced 3D printing available, in addition to the highest level of service, support and solutions that Methods Machine Tools is known for," Hanson added. "We are at the front end of this innovative technology that is poised to grow exponentially."
Hanson considers the latest developments from 3D Systems and in particular, Figure 4, "a game changer".
In October 2015, Methods Machine Tools announced it entered into a partner agreement with 3D Systems, a provider of the most advanced and comprehensive 3D digital design and fabrication solutions available today, including 3D printers, print materials and cloud-sourced custom parts.