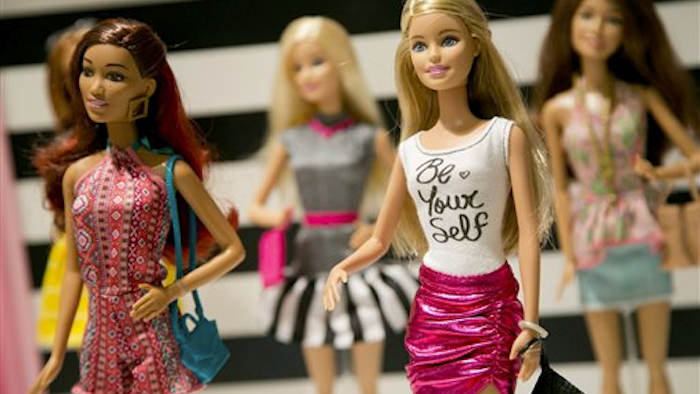 Mattel Inc. reported better-than-expected first-quarter sales Thursday as demand for Hot Wheels and Barbies helped soften the blow of the closing of the iconic Toys R Us chain.
Like other toy companies, Mattel has been grappling with children's shift away from traditional toys toward mobile devices. And shoppers are increasingly buying online at Amazon.com. But Mattel took an extra beating after the global rights to produce dolls based on the Disney Princess characters, including those in "Beauty and the Beast" and "Frozen," moved to Hasbro in 2016.
The pressures are mounting after Toys R Us announced in March that it was liquidating the 700 plus stores it has left in the U.S. The toy chain had filed for Chapter 11 bankruptcy last fall, but after a disastrous holiday shopping season, it was forced into liquidation.
Mattel reported a net loss of $311.3 million, or 90 cents per share, in the first quarter. That compares with a loss of $113.2 million, or 33 cents per share, in the year-ago period.
Adjusted for one-time items, the loss was 60 cents per share. Analysts polled by FactSet expected an adjusted loss of 39 cents per share on average.
Worldwide revenue fell 4 percent to $708.4 million from $735.6 million in the year-ago period. The company said that excluding the impact of the Toys R Us liquidation, its sales were positive.
Analysts had been expecting $688 million in the latest quarter.
Worldwide sales for the Barbie brand rose 24 percent, while Hot Wheels brand's sales were up 15 percent for the quarter. In comparison, worldwide sales for the Fisher-Price and Thomas & Friends' brands fell 8 percent. Global sales for the American Girl brand dropped 21 percent.
Mattel executives said during a conference call with analysts on Thursday that the company is discussing with retailers including Amazon, Walmart and Target ways to increase sales.
Earlier this month, Mattel announced its CEO Margo Georgiadis, a former Google executive, was stepping down after being on the job for just 14 months. The board named Ynon Kreiz, a Mattel director and a former studio executive, as her replacement.
"While Toys R Us will present a near term challenge, our transformation plan remains our focus, as we work to deliver improved profitability and return Mattel to its leadership position as a high-performing toy company," Kreiz said in a statement accompanying the company's results.
Shares in Mattel, which is based in El Segundo, California, were up about 4 percent in after-hours trading following the release of the earnings report.
Last year, Hasbro surpassed Mattel in annual sales as the world's largest toy maker for the first time since 1993.