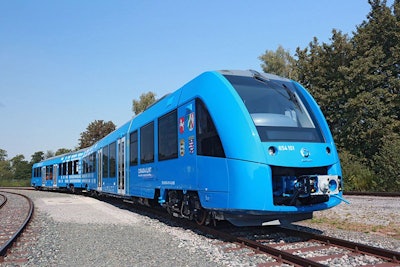 Commuters in northern Germany will be able to travel on the world's first hydrogen-powered trains in four years' time.
French engineering giant Alstom says it has signed an agreement to deliver 14 fuel-cell trains to LNVG, a rail company in Germany's Lower Saxony state.
The trains will begin operating on routes between Cuxhaven, Bremerhaven, Bremervoerde and Buxtehude from December 2021.
Alstom said Thursday that the Coradia iLint trains will have a range of up to 1,000 kilometers (621 miles) and a maximum speed of 140 kilometers per hour (87 mph).
Hydrogen engines emit only water vapor and are considered one of the cleanest forms of transportation. The trains will replace diesel vehicles on non-electrified tracks.
There are plans to produce the hydrogen using electricity from Lower Saxony's many wind turbines.