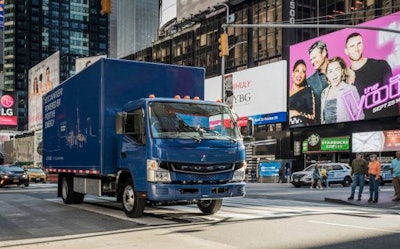 Daimler this week officially launched the first electric light-duty truck to enter series production and announced parcel giant UPS as its first U.S. commercial customer.

Mitsubishi Fuso, a subsidiary of the German auto giant's large truck division, debuted the FUSO eCanter at an event in New York City. The truck offers a range of about 60 miles and can carry up to three and a half tons to urban destinations with zero emissions and zero noise.

UPS reportedly plans to incorporate three of the trucks into its delivery fleet.

"We have a long-standing global relationship with Daimler, and we welcome the opportunity to trial the Fuso eCanter as UPS continues to realize the benefits of electric trucks," UPS Global Fleet Maintenance & Engineering President Carlton Rose said in a statement.
Daimler introduced a prototype electric truck in 2010 and began testing the vehicle in Europe in 2014. The company earlier this year announced its first commercial customer in Japan and opened a production facility in Portugal.

Officials expect to deliver 500 vehicles in the series within the next two years — beginning this year in the U.S., Europe and Japan — before expanding production in 2019.

The company also announced that it would supply eCanter trucks to several New York nonprofits, including Habitat for Humanity New York City, the New York Botanical Garden, Big Reuse Brooklyn and the Wildlife Conservation Society.

"It offers an attractive and cost-effective alternative to combustion engines and makes electric trucks key to the future of inner city distribution," said Mitsubishi Fuso chief executive Marc Llistosella.