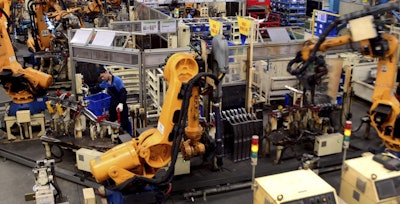 A new survey of global manufacturers shows that nearly two-thirds of those companies plan to run internet-connected facilities in five years' time.

The 2017 Manufacturing Vision Study from Zebra Technologies Corp. found that the percentage of manufacturers embracing the Industrial Internet of Things would jump from 43 percent this year to 64 percent by 2022.

Half of participating manufacturers expect to adopt wearable technology by 2022, and of those currently utilizing wearables, more than half expect to increase their use during that timeframe.

About half of respondents also expect to expand their use of voice technology in the next five years.

Manual processes, meanwhile, should plummet over that span. Although more than 60 percent of poll participants continued to use pen and paper to track manufacturing operations, that number should fall to about 20 percent.
Zebra officials attributed the pattern to increasing globalization and competition, as well as growing customer demand for more options and better quality.

Respondents identified quality assurance as their top priority over the next five years, but just 34 percent expect that to be a top concern by 2022.

"Manufacturers are entering a new era in which producing high-quality products is paramount to retaining and acquiring customers as well as capturing significant cost savings that impact the bottom line," Zebra Chief Marketing Officer Jeff Schmitz said in a statement.

The survey, conducted online by Peerless Insights in the first quarter of 2017, included 1,100 manufacturing technology officials in the North American, Latin American, European and Asia Pacific regions.

North American manufacturers, in particular, are expected to embrace on-demand, cloud and Software as a Service programs for Manufacturing Execution Systems; 58 percent in the region indicated plans to use those services in 2022.

"The results of Zebra's 2017 Manufacturing Vision Study prove that IIoT has crossed the chasm, and savvy manufacturers are investing aggressively in technologies that will create a smarter, more connected plant floor to achieve greater operational visibility and enhance quality," Schmitz said.