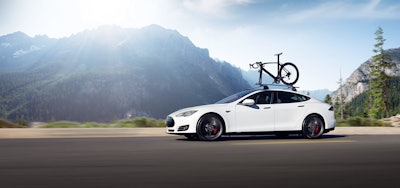 Last week, Tesla CEO and founder Elon Musk took to Twitter and announced yet another product the electric carmaker has in the works.
"Tesla Semi truck unveil set for September," Musk wrote. "Team has done an amazing job. Seriously next level."
Although unexpected, the tweet from Musk shouldn't be much of a surprise.
In fact, last year in Tesla's "Master Plan, Part Deux," Musk specifically cited the need to move beyond consumer vehicles.
"In addition to consumer vehicles, there are two other types of electric vehicle needed: heavy-duty trucks and high passenger-density urban transport," Musk wrote. "Both are in the early stages of development at Tesla and should be ready for unveiling next year. We believe the Tesla Semi will deliver a substantial reduction in the cost of cargo transport, while increasing safety and making it really fun to operate."
Although Musk didn't mention if the semi truck would function autonomously, that seems a very real possibility given Tesla's current self-driving product offerings.