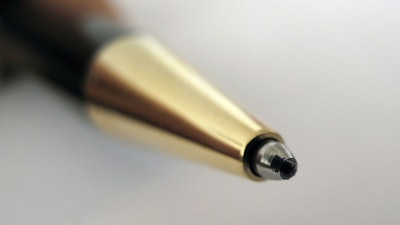 It seems like a simple part to manufacture, but making ballpoint pen tips has eluded Chinese manufacturers for years.
The country is the world's biggest manufacturer of ballpoint pens — and makes about 38 billion a year — yet, manufacturers have always had to import the stainless steel tips that dispense ink when used. That gap in manufacturing capabilities costs the country's 3,000 pen-makers about $17.3 million a year.
Part of the problem is that manufacturers have lacked the high-precision machinery and hard, ultra-thin steel plates needed to make the part.
The issue has been such an insult to national pride that a year ago, Premier Li Keqiang complained on national television about his country's inability to produce a high-quality pen. While China has excelled in the aerospace and defense industries, it has struggled to upgrade its capabilities with steel and precision engineering.
Now, BBC reports that China has finally mastered the technology to make a ballpoint pen from end to end. A Chinese paper recently reported that a state-owned company acquired the technical know-how after five years of research, and the first line of pens recently came out of production.
Assuming the pens pass lab tests, the country plans to phase out imported pen tips within two years.