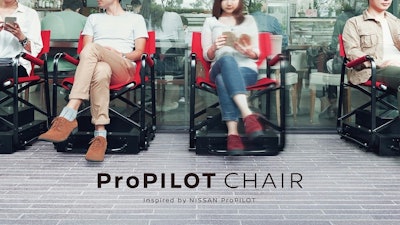 Lots of folks are on the fence about autonomous cars; naturally, the notion that a driver wouldn't be in control of a vehicle as it's cruising down the road alongside dozens of others is scary to think about.
So, as far as self-driving human transport devices go, perhaps this next invention will be technology's olive branch.
Nissan, using the same ProPILOT technology that enables its cars to navigate autonomously in single-lane traffic, has created self-driving chairs, which are intended to make our lives easier the next time we're waiting in line.
The chairs integrate motorized wheels, a camera, and sensors, causing them to automatically advance once the next person in line is no longer sitting, while the now-person-less chair rolls to the back of the line. The system mirrors how the ProPILOT operates in vehicles (like the new Serena minivan that debuted this past summer), ensuring that it stays in the center of its lane and maintains a safe distance behind the car ahead.
While the video may resemble a publicity stunt, intended to show off (and perhaps garner support for) its vision for "Intelligent Mobility," Nissan does plan to test out the chairs in select restaurants in Japan this year.
And just like that, humans have completely eradicated the need to stand. How about a device that autonomously stretches our hamstrings every hour?